Brisbricks LEGO® Fan Expo
Chandler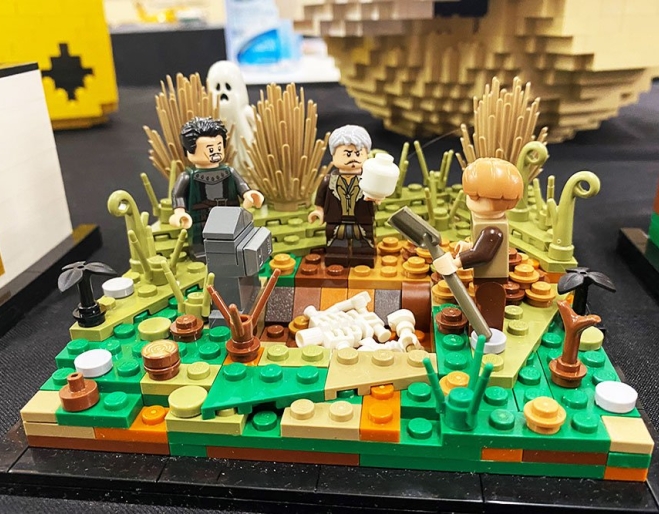 THIS EVENT IS NOW IN THE PAST. FOR MORE GREAT THINGS TO DO AND SEE IN AND AROUND BRISBANE, PLEASE HEAD TO OUR WHAT'S ON PAGE HERE
BrisBricks LEGO® Fan Expo is a must visit for LEGO fans of all ages - a 3-day extravaganza of mind-blowing displays and designs held at the Sleeman Sports Complex, Chandler from Oct 2-4, 2021.
From its humble beginnings in an event shed at the Mt Gravatt Showgrounds, the expo is now celebrating its ninth year, having welcomed tens of thousands of patrons who have been amazed and excited by the visually stunning exhibits.
Children and adults alike can immerse themselves in a magical world of visually stunning exhibits constructed by BrisBricks merry band of talented builders and volunteers, displaying their own mind-boggling creations and personal collections. There's also a massive train layout incorporating scenes from around the world.
At this year's Expo, things have changed due to COVID-19 restrictions, with no play tables or interactive displays and sessions are  timed to 90 minutes, with the venue cleared before the next session can begin. A small range of retailers will be offering new and used LEGO for sale while drinks and snacks will be available to purchase at the venue.
Good to know - The BrisBricks Adult Fan of LEGO (AFOL) community in South East QLD is a not-for-profit club that has proudly supported many local children's charities over the years.
Need to know - This year, BrisBricks are having two 90-minute Autism & Sensory Sessions, one on Sunday morning from 9-10.30am and one on Monday afternoon from 1.30-3pm. Here, the sound, movement and lighting of the displays are adjusted to help the comfort of those LEGO fans with sensory issues.
Tickets: Adults (16yrs & over) $14; Child (15yrs & under) $7; Family Pass (2A+2C) - $39.50.
Note that there are no door sales, tickets are available ONLINE ONLY.
BrisBricks is a valued partner of Must Do Brisbane.com
Chandler Arena
Sleeman Sports Complex
Old Cleveland Rd
Chandler
Oct 2-4, 2021
9am-3pm
Map
Sleeman Sports Complex Old Cleveland Rd Chandler