Home Delivery Fruit & Veges
in Brisbane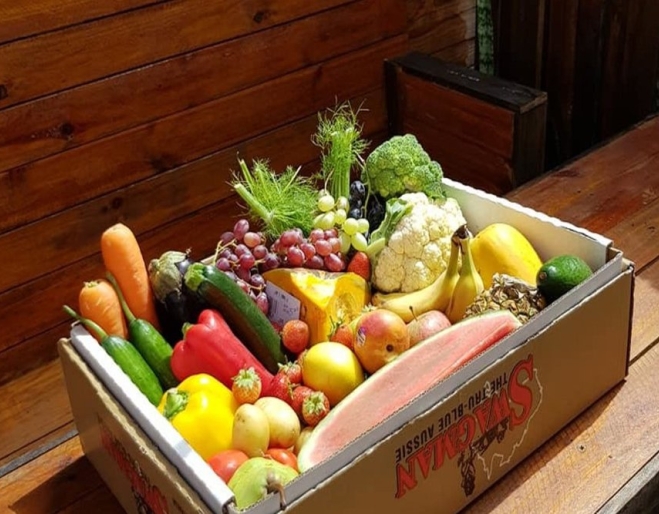 Here are more than 20 great home delivery services around Brisbane who will bring boxes of farm fresh fruit, vegetables and produce straight to your doorstep:
Access Farmers Markets - Bringing Farmers & Traders together on the one website, these guys help you to access and shop for the freshest food without leaving home. An ever increasing range of seafood, meats, fruit and veges, organics, staples and specialty products from some of your fave market stalls and farmers around Brisbane are all available to purchase for home delivery via this site.
The Farm Folk  - Order freshly picked organic produce grown by locals and family farms. Most of The Farm Folk's produce comes from a trusted and nationally accredited wholesaler who have been long serving customers to local farmers throughout the east coast of Australia. Deliveries are Monday, Wednesday, Thursday and Friday.
Food Connect - Supporting farmers for the past 16 years by sourcing their fresh seasonal produce and delivering direct to consumers without the middle man, Food Connect is your go-to for fresh fruit and vegetables, picked, packed and delivered weekly from grower to customer.
Spiro's Fresh -  This fresh fruit and vege supplier has provided produce to cafes, restaurants and residential homes, with orders placed online and then delivered to the doorsteps of homes around the country.
Farm2Market - Get foods from your local market, direct form the grower/producer delivered direct to your door from mixed boxes of fresh fruit and veges, meats, pantry staples, household items, pet food, fridge and freezer items and health and beauty products, all from the one online site. 
Ripe'n'Raw Organics - Offering a wide range of 100% organic Aussie grown fruit and veges which arrive fresh every day (available in seasonal boxes) as well as meats, pantry items, dairy products and with orders personally tailored to customer's wishes and home delivery across suburbs of Brisbane. 
Fresh Local Provisions - Dedicated to sourcing locally grown, owned and manufactured foods for the local market, these guys deliver local and organic produce and a curated range of local and eco-products for table and home, with delivery available to Samford and surrounding areas.
Home Fresh Organics - Shop online for your 100% organic seasonal fresh fruit and vegetables. You can order custom fruit boxes, vege boxes or a mix in small or large sizes with home delivery that will even leave your order on your kitchen bench.
BnB Fresh - The Rocklea based wholesale fruit and vegetable wholesaler now delivers fresh fruit and vegetable boxes straight to your door.
Wholefood Harvest - The Scenic Rim's local organic fresh food service is sourced locally where possible and offers customers on the south side of Brisbane, Logan and all the way down to Canungra, Beaudesert and Boonah the chance to order a box of fresh produce tailored to your needs. Order by 11am Wednesday for a Friday delivery.
The Fruit and Deli Co - The North Lakes fruit, vege and grocery store offer a wide range of fresh produce which can be dropped at your home by their Home Delivery Group for $6.95 per order.
Spray-Free Farmacy - This family business in Brisbane gathers a variety of fresh, organically grown produce from local farmers every week, packs it in recycled boxes and deliver to their network of pick-up points (or your doorstep) across Brisbane and the Northern Gold Coast, on Thursday, Friday and Saturday.
FMD Produce - This Australian owned company sources high quality fresh fruit and veges and products (including exotic ane rare varieties) and offers free home delivery.
Fresho - Sign up to get fresh and processed fruit and veges delivered to your door (includes all areas of Brisbane, Ipswich, bayside and Redcliffe).
VC Fruit Market - Vince & Charlie's Ferny Hills fruit & vege market is doing up fresh boxes of produce a dn delivering as far as The Gap, Samford & Albany Creek (over $40 free delivery).
Crunch Produce - Are delivering to Brisbane's inner west and western suburbs on Thursday and Friday each week,
Fruit Man Express - Home delivering fruit and veges to all of Brisbane for over seven years, with a minimum $50 spend for free delivery.
Charlies Fruit Online - The popular northside fruit & vege market offer boxes that range in size & price from $49 (couples) to $99 (jumbo family) with free delivery over $30 to suburbs across Brisbane and beyond, from Acacia Ridge in the south to Cleveland in the east and Albany Creek & Deception Bay north and Brookfield in the west.
Other local grocery shops who will home deliver include Superior Fruit in Graceville, Milton Fruit Bowl and Fresh Sensations in Capalaba (free delivery for orders over $80).