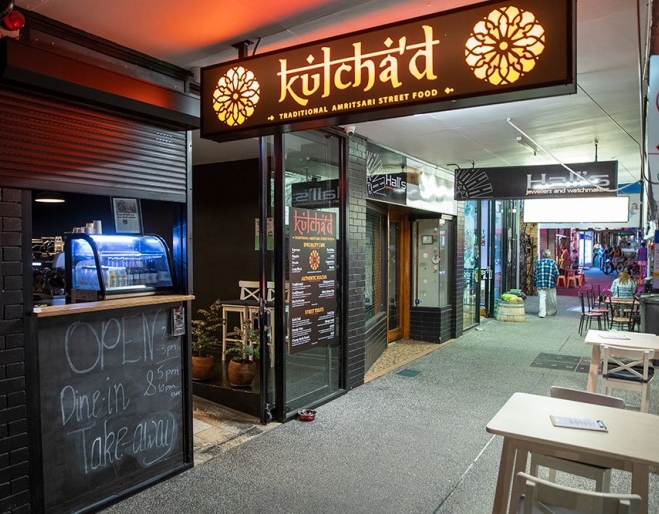 Kulcha'd in West End specialises in delectable North Indian street food that's like nothing else to be found in Brisbane, with a menu that is based on kulcha - a traditional crispy bread stuffed with delicious fillings and baked in a hot oven.
As well as kulcha, to start there's a small range of heavenly street treats including must try Masala Fries (with tomatoes, herbs and spices, coriander and mayo with the option of chicken or bacon; Curry-loaded Fries (with tomato & chickpea gravy, herbs spices, coriander & vegan mayo), Kathi Roll (house-made India wrap stuffed with spices, Szechuan mayo, veges and choice of filling) or Chicken Mushu Paneer.
No visit here should be made without indulging in the signature dish though - Kulcha, which comes with a choice of 3 fillings: traditional (tandoor-baked potato, onion & traditional spices), Cauliflower (50/50 potato & cauliflower with traditional spices) and Mushy Paneer (mushroom and paneer melted in crispy hot kulcha bread). Whilst you can order these on their own, it's best to get a combo which includes the traditional accompaniments: a small bowl of chickpea curry and minty onion dip.
In addition there's traditional sweets: Jalebi (deep-fried, soaked and served with seasonal fruit, nuts and house-made ice-cream) or Kulfi (house-made ice-cream with pistachios, saffron & cardayum) as well as mango lassi, tea, coffee or cold chai.
Nice to know - Kulcha'd is also open for breakfast with two signature traditional offerings - Breakfast Kulcha (with special chickpea mint gravy) or Bread Omelette (spicy eggs, coriander, tomatoes, and grilled onion on sourdough) with well-brewed coffee to accompany.
Need to know - Kulcha'd is open for in-house dining (indoors or on the pavement) as well as takeaway. Bookings highly recommended.
Kulcha'd
120 Boundary St
West End
BYO
3255 3822