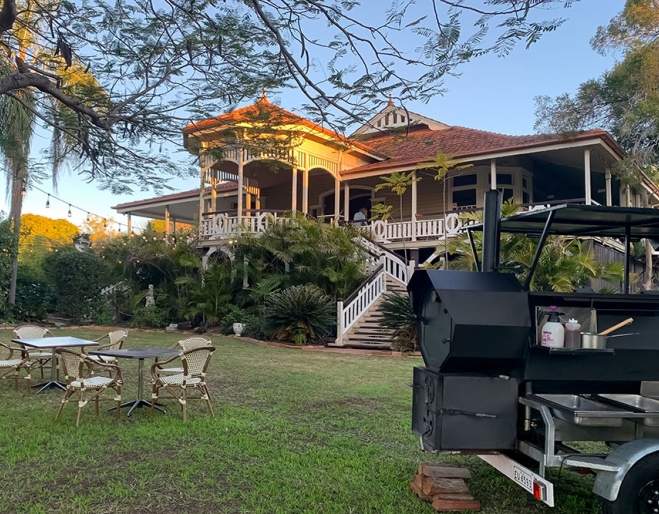 Fentons Fired Up is serving delicious smoked BBQ meals in the garden or verandah of this grand 1916 Queenslander in Ipswich on Saturdays.
Popular dining venue Fenton's at the Ipswich Club has rolled in a huge custom-made smoker onto the front lawn and began serving slow cooked American BBQ-style meats and sides for in-house dining and takeaway.
Diners can spread out on the veranda of the 1916 Queenslander – with a full bar operating inside – and in warmer months tables spill into the garden under fairy lights.
Behind the BBQ venture is renowned Ipswich chef Fenton Keogh, who ran a popular French restaurant in Ipswich for many years before he and wife Lisa began running events in the grand Ipswich Club building.  
Customers can choose from slow-cooked, smoky and falling apart-tender brisket, pulled lamb, pork ribs, chicken wings and lots more, all served with delectable sides such as mac n cheese, Mex beans and coleslaw. Prices range from $10 to $35 – and it's all available takeaway.
Good to know - As restrictions have eased, events have begun returning to The Ipswich Club and Fenton can also take his set-up off site for events. Book a table or place your takeaway order on 0407 115 049.
Fenton's at The Ipswich Club
14 Gray St
Ipswich
Saturdays 4-7pm
$10-$35
0407 115 049