Za Za Ta
Fortitude Valley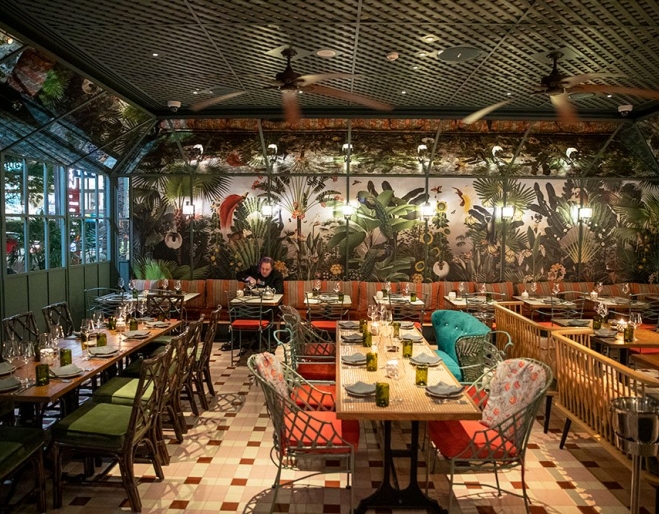 ZA ZA TA is an exotic oasis within Fortitude Valley's Emporium - a vegetarian Middle Eastern restaurant and bar serving dishes unlike anything else in Brisbane in a splendid setting to match.
The stunning decor is Alhambra palace meets Raffles Hotel, with a touch of Marrakesh, spread over several rooms and featuring velvet lounges, leadlight doors, tessellated tiles and rattan bar stools.
No visit to ZA ZA TA's restaurant should be attempted without first having a drink in the colonial, chic bar, with its opulent furnishings and candlelit tables. To the rear, there's a feature that looks like a stage with a curtain, behind which is 'the library', another stunning drinking lounge with backlit shelves of exquisite pottery and elegant couches and armchairs.
Here, you can sink into a plush chair and enjoy a glass of artisanal wine, a colonial-inspired rum from ZA ZA TA's curated collection, a Mediterranean-style gin or a creative cocktail, infused with Arabian spice, indigenous botanicals and Queensland citrus.
The palatial dining room is the perfect back-drop for the food menu, which is unlike anything served at other Brisbane restaurants, and which brings a unique taste of Tel Aviv to the table. Here, centuries-old tradition gets a modern twist, using local ingredients to create a delectable menu designed to share.  
'Nibbles and Snacks' include the likes of fried goats cheese pretzel with house lamb bacon and yolk aioli or wagyu bits, pickled sugar loaf cabbage and challah toastie, while 'Raw and Cured' offerings are yellow fin tuna, persimmon, alted yoghurt and dill oil or ocean trout nayyeh, pickled okra, wild rice and Yarra Valley roe,
From the extensive range of Small Meze there's roast capsicum, goat's curd, chilli oil & mint; whipped feta, spiced beetroot & dill; zucchini baba, pistachio and charcoal squash; sesame falafeltahini and amba pickles or zucchini flowers, kashkaval baba ghanoush, pistachio and caper aioli.
Woodfire and Charcoal dishes (a bit larger) include eggplant h'raime, yellow tomato gazpacho and charcoal squash or cauliflower shwarma, smoked labneh, pickled fennel and quince.
There's also a couple of dumpling dishes to choose from - pumpkin dumplings, shish barak style with burnt chilli butter or lentil and mushroom manti dumplings, black garlic and kashkaval jus..
For dessert, there's date pudding and caramelised milk ice-cream, ZZT ice-cream sandwich, filo tulle, sorbet & gelato orclassic mahalabi with traditional condiments. 
Good to know - Can't decide? Then order the Chef's Choice, a feast comprising a selection of the most popular dishes, for a minimum of 2 people.  
Menu may have changed since our visit.
ZA ZA TA
Ovolo The Valley
Emporium
1000 Ann St
Fortitude Valley
Licensed
3253 6999