Rico Bar & Dining
Brisbane CBD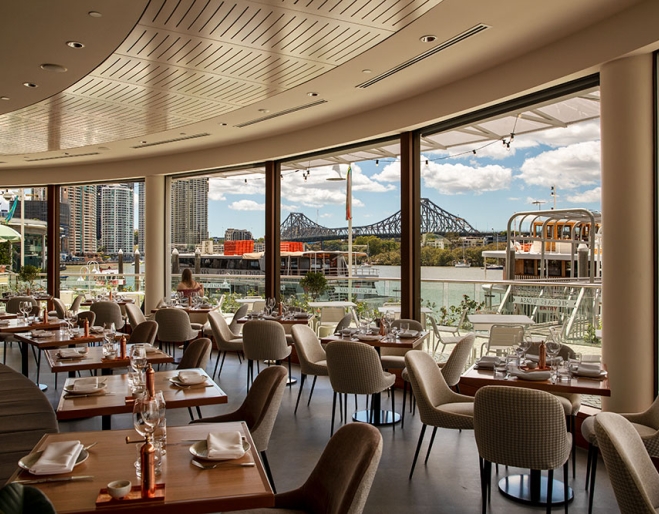 Rico Bar & Dining is a cool contemporary Spanish/Latin American bar and eatery in a prime riverfront location on Eagle Pier in Brisbane's CBD.
Diners can take a seat on the tropical retro garden style terrace or in the light-filled dining room and bar where curved glass windows offer stunning river views.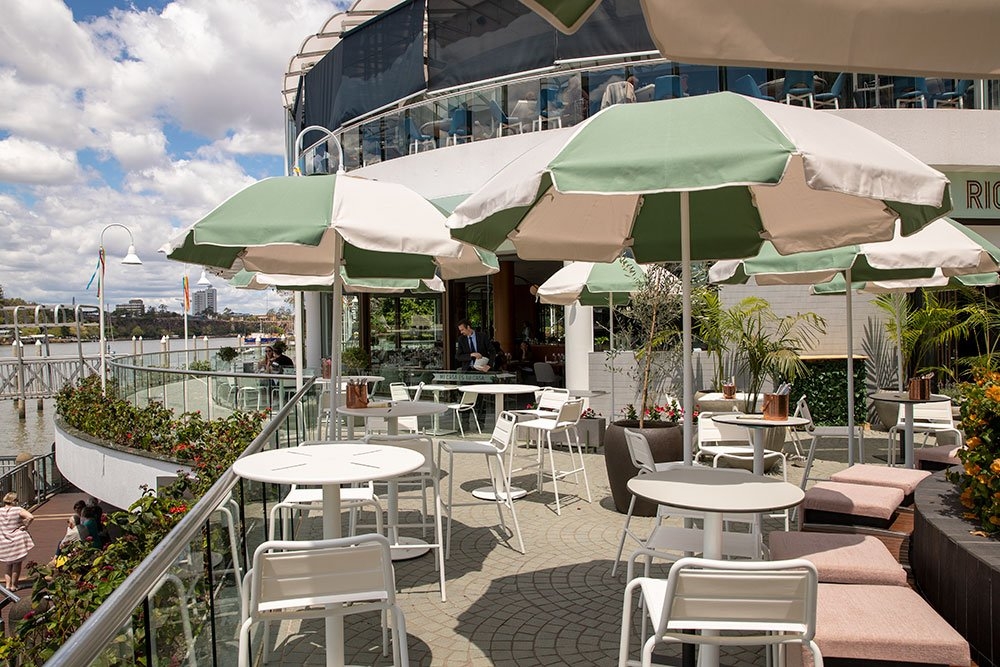 Rico Bar & Dining is the perfect spot for a drink and a delicious bar bite or to settle in for a shared feast. Nibbles and entrees include Picadas such as warm Spanish olives, Chefs selection of Spanish Cured meats, ceviche (king fish, ocean trout or tuna), ostra (oysters with toppings such as gaspacho caviar), ensalada, pintxos (including Rico's signature Bugs brioche with lettuce, lime and chilli aioli) and tapas (including empanadas, grilled lamb ribs and eggplant fritters).
For mains there's a choice of paella (seafood, vegetarian or live marron), raciones (including beef cheek, whole baby squid, pork cutlet, whole baby barramundi, eye fillet or rump cap) with a choice of sides (such as patatas bravas, charred corn or cauliflower, tortilla or baby cos) or large raciones (whole chicken or lamb shoulder) with a choice of 2 sides.
And when it comes to dessert, there are delicious choices such as the signature catalana, olive oil chocolate tart and spiced mango parfait.
Rico has a cracking cocktail list, starting with the creative house cocktails such as Barcelona ( Crema de Mezcal, Passionfruit, Lime and Cava) or Millonaro ( 4 Pillars Bloody Shiraz Gin, Plantation Original Dark Rum, Apricot Brandy, Lime and Grenadine) as well as classics including Mojito, Margarita, Daiquiri and Caipirinha and there's also red, white or rose sangria.
The wine menu features plenty of Australian boutique wines as well as a selection of Spanish and South American wines.
Need to know - One of the best ways to sample the many great dishes Rico has to offer is with a banquet, starting from just $38pp (available before 6.30pm) and ranging up to $65pp.
See our full curated list of restaurants in Brisbane CBD HERE
 
Rico Bar & Dining
Eagle Street Pier
45 Eagle St
Brisbane
3188 1444