The Wider Earth
Princess Theatre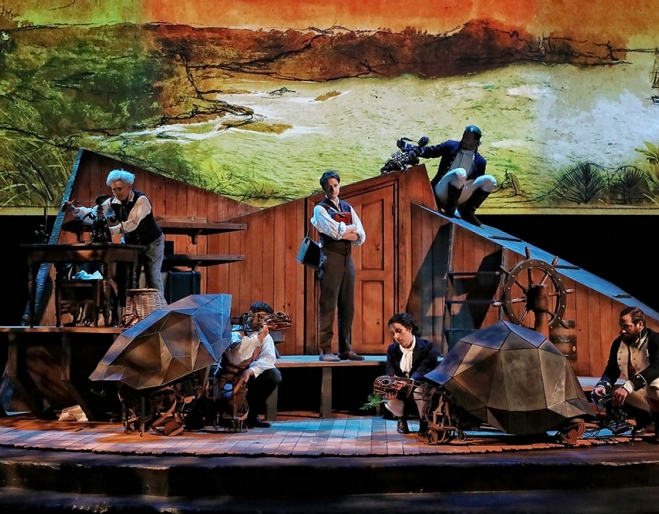 The award-winning drama The Wider Earth is brought to life by the Dead Puppet Society at the historic Princess Theatre from February 5-19, 2022.
Audiences are invited to join the young rebellious Charles Darwin on HMS Beagle's daring voyage to the far side of the world and discover the gripping story behind one of the most important discoveries in history.
An ensemble cast, remarkable puppetry, cinematic projections and an original score by Lior and Tony Buchen all combine to bring to life uncharted landscapes and incredible creatures in this highly ambitious theatrical event.
Dead Puppet Society Executive Producer Nicholas Paine said the Queensland-born-and-based company was delighted to restage the critically and publicly acclaimed production of The Wider Earth specifically for The Princess.
The design-led theatre company opened its dedicated studio, workshop and gallery space at The Princess Studios, located next door to The Princess Theatre, in June 2021. "We have refreshed this production to create an immersive experience that is tailored to the aesthetics, dimensions and overall vibe of The Princess," Mr Paine said.
A reimagined tale of Charles Darwin's global voyage of scientific discovery, The Wider Earth was developed at St. Ann's Warehouse and Lincoln Centre in New York ahead of its sold-out world premiere season in Brisbane in 2016.
It played the Sydney Opera House for Sydney Festival in 2018, performed a five-month season at the Natural History Museum in London, and was nominated for an Olivier Award and two Helpmann Awards.
Need to know - The Wider Earth is recommended for ages 12+.
The Wider Earth
Princess Theatre
8 Annerley Rd
Woolloongabba
Feb 5-19, 2022
From $39