Arc Dining
Howard Smith Wharves
ARC DINING HAS PERMANENTLY CLOSED DUE TO THE EFFECTS OF THE CORONAVIRUS LOCKDOWN.
Arc Dining is a stunning dining pavilion with sweeping vistas of the Story Bridge and city skyline at the New Farm end of Howard Smith Wharves.
The state of the art glass-walled pavilion, with bright tropical interior by renowned Brisbane designer Anna Spiro is possibly Brisbane's most beautiful dining spot. Mismatched cane chairs are interspersed with modernist dining chairs and patio lounges, in the centre is a large potted fig tree. and at the back, an art wall.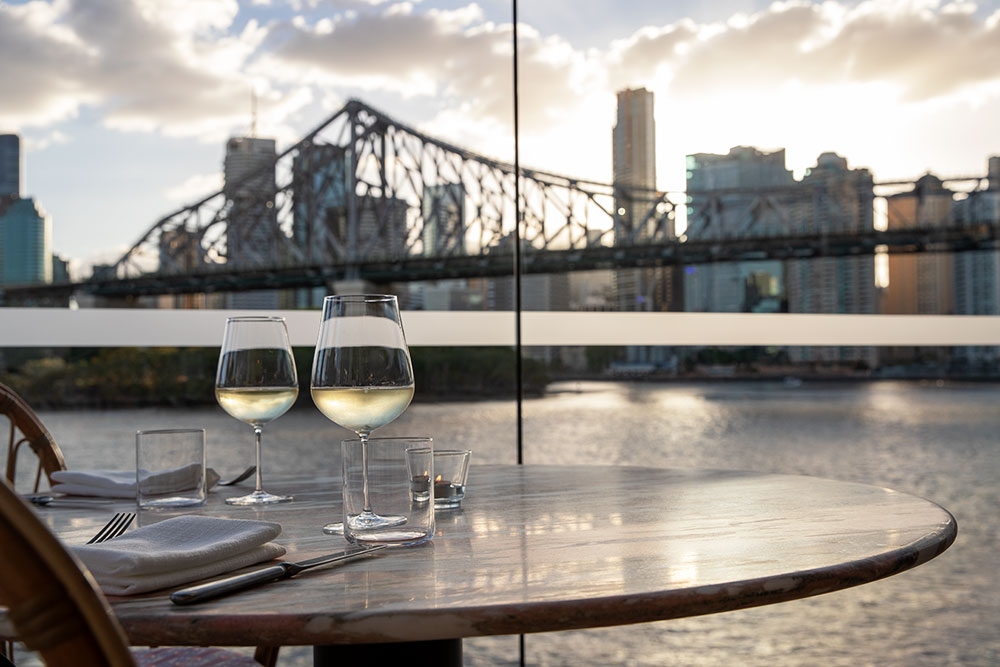 Coveted tables are in the riverfront corners where it feels like you are on a boat - an ideal spot for a date night, and to one side is a tiny astro-turf lawn with a couple of outdoor tables.
The food menu at Arc offers diners a choice of set menus for 5 or 6 courses or a la carte. Starters include Port Macquarie or Wallis Lake Rock Oysters while entrees include Spanner Crab with gala apple and cranberry hibiscus, BBQ squid with preserve lemon and salt bush or Gosse Prosciutto with asparagus and fig leaf.
For Mains there's choices such as Crab Pasta with periwinkle and garden gremolata, Kingfish and spiced squash or Roast Chicken with burnt pumpkin, tendrils and yoghurt.
Stand-out at Arc Dining though would have to be the desserts - must-try is the Snickers, Roasted Peanut Ice-Cream, caramel and chocolate crisp.
The menu may have changed since our visit.
Arc Dining
Howard Smith Wharves
5 Boundary St
Brisbane