The Destiny Tea Room
Woolloongabba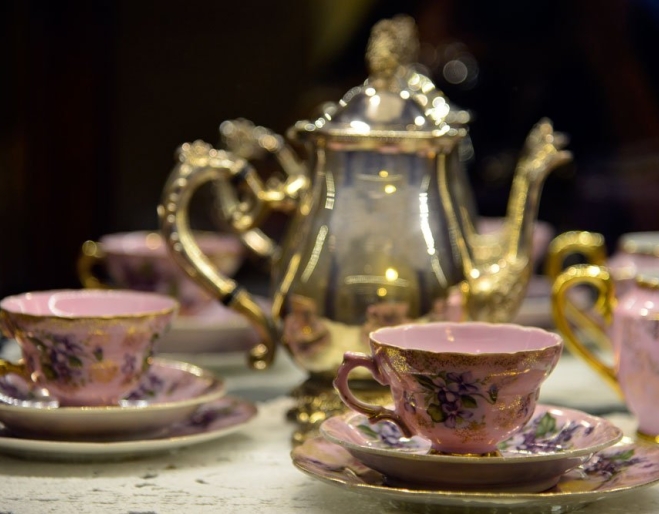 The Destiny Tea Room in Woolloongabba is like a lost remnant of the quaint 1940s tea rooms that once were the highlights of a shopping trip to Brisbane city.
Located in long-demolished or renovated arcades, these tea rooms were the place where ladies in gloves and hats supped tea at linen clothed tables, nibbled on scones and dainty sandwiches or indulged in a high tea and had their tea leaves read before taking the tram home.
Taking its name from the original tea room located in the Brisbane Arcade in 1923, The Destiny Tea Room (formerly The Rendez-Vous Tea Room*) is a secret oasis hidden away in a Woolloongabba shopping strip, where you can enjoy an old-fashioned Devonshire or High Tea, get your tea leaves read and your future told by an in-house clairvoyant.
Customers can choose between the Devonshire Tea or the High Tea (Saturdays only), both of which include a complimentary Tea leaf reading.
Or you can simply book a Tea Leaf, Crystal ball, Palmistry or Tarot Reading, all of which are available by appointment only.
And for something completely different, you can book a Psychic Party (available for hens parties, baby showers, or other special occasions).
*The Rendez-Vous Tea Room, inspired by the original tea room of the same name in the Brisbane Arcade, was owned by well known psychic Luke Quadrelli, who sadly passed away in 2019 and now The Destiny Tea Room, owned by his good friend and mentor, has taken its place.
Images of the interior were taken when it was still The Rendez-vous Tea Room. 
The Destiny Tea Room
787 Stanley St
Woolloongabba
3393 1101
Map
787 Stanley St Woolloongabba