Lily Kelly Napangardi
Mitchell Fine Art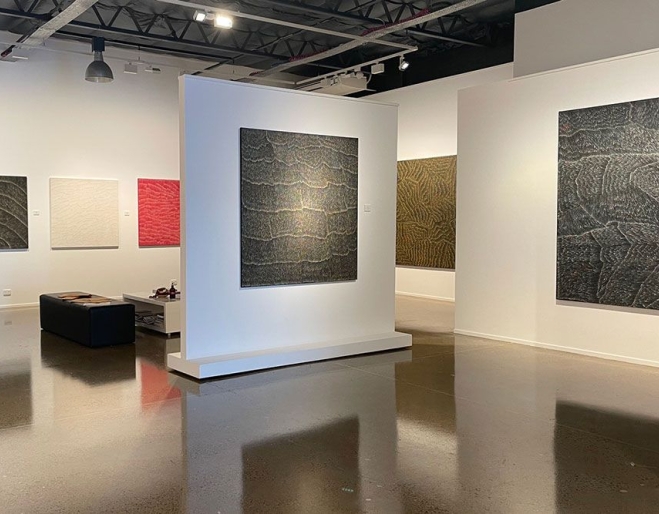 THIS EVENT IS NOW IN THE PAST. FOR MORE GREAT THINGS TO DO AND SEE IN AND AROUND BRISBANE, PLEASE HEAD TO OUR WHAT'S ON PAGE HERE
Lily Kelly Napangardi's latest exhibition 'Tali', now showing at Mitchell Fine Art in Fortitude Valley, features paintings that portray striking cultural interpretations of the Australian desert landscape.
The Indigenous artist, born circa 1948 in the remote Central Australian desert, is a senior law woman and a custodian over the women's dreaming stories and sites of her traditional homelands, and has been named as one of Australia's 50 most collectable artists.
'Tali' translates to 'sandhill' or 'country', and the relationship with the landscape holds a place of significance for Aboriginal people. Lily Kelly Napangardi's visual narrative evokes the ephemeral nature of the ever-changing desert sands, moved by the winds and rains in this harsh interior landscape.
Within Aboriginal society it is critical for its people to maintain their connection to country ensuring the ongoing health of culture and tradition. Art has become a considerable platform to continue this relationship. It is a visual dialogue that continues to be utilised as artists interpret country and visually narrate their explanations of land and its importance to them.
The works in this exhibition are a striking interpretation of the Australian landscape, each demonstrating the cultural importance of country to the artist and her family.
Lily Kelly Napangardi's exhibition is showing from June 16 until July 17, 2021, with a Directors Talk talking place at the gallery on Saturday, June 19 from 11am. There will be no opening night for this exhibition.
Mitchell Fine Art is a valued parter of Must Do Brisbane.com
Lily Kelly Napangardi
Mitchell Fine Art
86 Arthur St
Fortitude Valley
Jun 16-Jul 17, 2021
Mon-Fri 10am-5:30pm 
Sat 10am-5pm
3254 2297