One Fifty Bar & Eatery
Ascot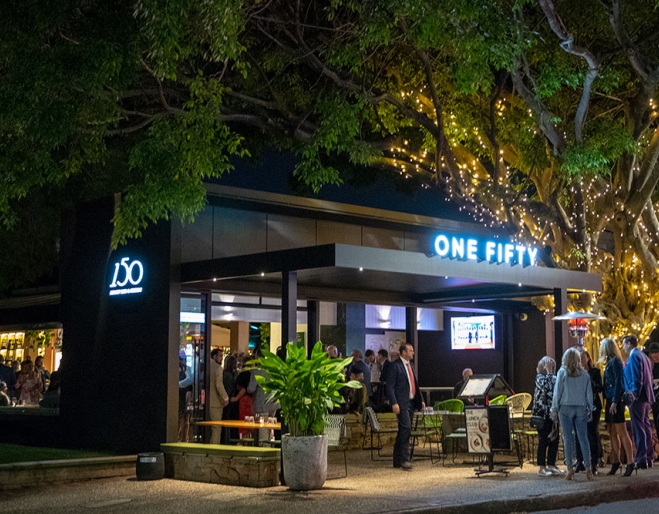 ONE FIFTY BAR & EATERY HAS PERMANENTLY CLOSED IN 2023 AND BEEN REPLACED BY VICTORY LANE.
One Fifty Bar & Eatery, located less than a block from historic Eagle Farm Racecourse is one of Ascot's best places to dine.
For One Fifty offers a fantastic foodie menu that belies the casual ambience of the place, which at street level is fronted by the bar, a magnet for post-race day crowds.
To the rear, with good physical and acoustic separation from the bar, is the cool white Hamptons-meets-Queenslander patio-style dining room with hanging plants, which opens onto a garden where there are more dining tables and chairs.
Entrees include temptations such as crispy baby chill calamari, corned beef croquettes, crispy soft shell crab sliders and Stradbroke king prawns with citrus and garlic butter.
Mains such as steamed SA black musssels with harissa, cous cous and French fries, Truffled spatchcock and Darling Downs Beef mignon (to-die-for) with fondant potato all come recommended, with sides such as seasonal green with tarragon salad, polenta fries and curry salt or rocket pear and parmesan.
For Sweets, delectable options include steamed blackberry pudding, rhubarb tart with chive ice-cream or cinnamon brulee with stewed quinces and almond tuile.
There's a cracking wine list to accompany, while cocktails such as Passionfruit mojito, Russian spring punch and Vesper martini make for refreshing pre-dinner drinks.
Meanwhile an impressive spirits list includes an extensive range of whiskeys and rums from around the world. Beer drinkers can enjoy Asahi, Peroni, Mountain Goat or Cricketers Pale Ale on tap along with a descent selection of bottled craft and main-stream beers.
The menu may have changed since our visit.
One Fifty Bar & Eatery
150 Racecourse Rd
Ascot
Opening hours
3123 7123
Map