Paniyiri Greek Festival
South Brisbane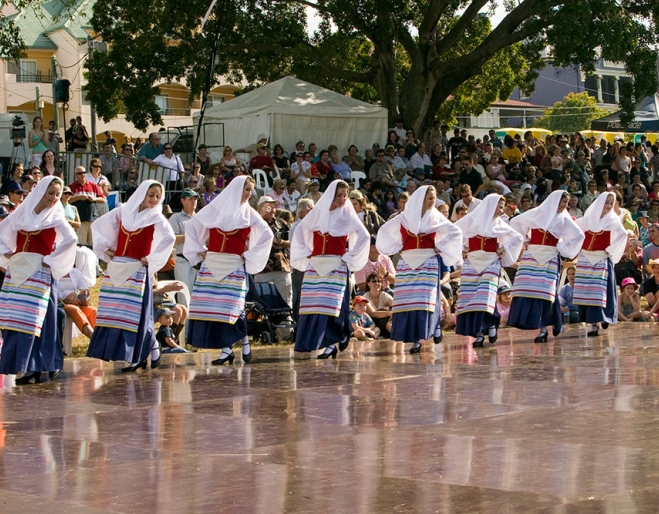 Paniyiri, the epic Greek Festival that all started with a Zorba dance in Musgrave Park in 1976, returns for its 43rd year with another fabulous two-day celebration of all things Greek, on Saturday, May 18 and Sunday, May 19.
Highlights of the 2019 Paniyiri Festival include the return of The Plateia traditional Greek village, a Dance Spectacular on opening night with a stunning bouzouki tribute, and a standout cooking program headlined by internationally renowned Greek chef Dimitris Katrivesis, who will join Nostimo Restaurant's Chef-in-Residence David Tsirekas for Brisbane's first Greek Yum Cha. 
2019 also marks the 90th anniversary of the Greek Orthodox Church of St George, Brisbane's oldest Greek community established in the 1920s. This anniversary will be celebrated with dancing tributes and a special lecture by author and broadcaster Richard Fidler, host of ABC Radio's national program Conversations.
Musgrave Park will once again be the epicentre of everything Greek with more than 30 authentic Greek food stalls showcasing the tastes, recipes and secrets from all regions of Greece, with honey puffs, haloumi, dolmades, yiros, souvlaki, spanakopita, keftedes, moussaka, baklava and more. 
In addition, all the usual faves - Hellenic dancing displays, honey puff devouring, olive eating, plate smashing and grape stomping competitions - are back, along with the inaugural Greek Coffee Race, a contest where teams must combine speed with balancing techniques. 
With so much to see and so much to do, here are 9 absolute must-dos: 
1. Visit The Plateia (Greek Village) - Beside the Greek Club, this is THE place to experience the sights, smells and tastes of a traditional Greek village. Here you'll find a traditional Greek taverna serving mouthwatering lamb, pork and chicken cooked over hot coals.
2. Dance the Zorba - Join Hellenic dancers as they perform the famous Zorba, Sirto, Kalamatiano and more on the Main Stage at Musgrave Park, or play the hugely popular Zorba Musical Chairs and Zorba 'Til You Drop.   
3. Greek Dance Spectacular - The Dance Spectacular on Saturday night celebrates the 90th anniversary of the Greek Orthodox Church of St George with a dazzling display of light and dance, featuring the bouzouki and more than 60 dancers performing traditional and modern Greek dances in brilliant traditional costumes with headpieces.
4. Greek Music - Listen to traditional Greek instruments including the bouzouki, tarabuka, lira and laouto, as Paniyiri showcases a soundtrack of traditional and modern music over the two days. Don't miss Bouzouki Kids featuring five talented children playing the famous Greek instrument, or the official opening event on Sunday - a magnificent cross-cultural celebration of the bouzouki and the didgeridoo. 
5. Greek Cooking Demonstration - This jam-packed program features two days of  food tasting and culinary indulgence, hosted by some of Queensland's and Australia's best Greek chefs, including Nostimo's own chefs David Tsirekas and George Diakomichalis, joined by Greek super-chef Dimitris Katrivesis. 
6. Cultural Program - Richard Fidler, host of the national ABC program Conversations, will present a special lecture on Saturday between 4pm and 5pm. Greek Gospels from the past 90 years will be on display and Father Dimitri Tsakas from the Greek Orthodox Community of St George will conduct tours of the magnificent Greek Orthdox chuch. 
7. Stars Go Greek - Celebrities from Channel 7's Home and Away and News, Radio 973 and Radio 4KQ, plus a number of leading Brisbane personalities will learn and perform Greek dances.  Watch as these celebrities put their best feet forward. 
8. Greek's Got Talent - Paniyiri is seeking singers, dancers, magicians and more to enter 2019's Greek's Got Talent. Preliminary heats will be held at 2.35pm on Sunday with the finals at 5.35pm on the Main Stage. You don't have to be Greek to enter. 
9. Kids Zone - Kids can get creative at the free, dedicated Kids Zone with art, craft and games all themed around a Birthday Party this year. Children can also take part in free Hellenic dance workshops.
Musgrave Park &
The Greek Club
Edmondstone St
South Brisbane
May 18 from 12pm
May 19 from 10am
A $12 CU13 Free
*Pensioners $5 (gate only)
3844 1166
Map
Edmondstone St South Brisbane