Hibiscus Room
Brisbane CBD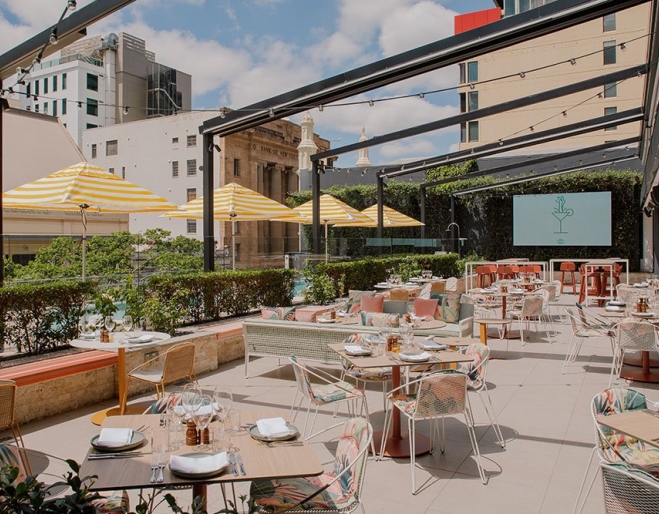 Hibiscus Room is a stunning poolside restaurant and bar at Hyatt Regency Hotel, taking inspiration from the iconic restaurant of the same name that graced the top floors of Lennon's Hotel in the 1970's and 80's.
First established in 1884, Lennons Hotel opened at the current Hyatt Regency Brisbane site on Queen Street in 1972, hosting world-renowned guests including Alexander Graham Bell, Sir Charles Kingsford-Smith, Dame Nellie Melba, President Lyndon B. Johnson and The Beatles.
Located originally on levels 25-26, Hibiscus Room was the city's leading bar, dining, and musical venue. Throughout the 70's and 80's other venues could only be second best to the celebration and finesse of Hibiscus Room.
The shag carpets and vinyl of the '70s and '80s are long gone and Hibiscus Room has been refreshed by award-winning Brisbane architects Cameron & Co with laid-back patterns, a neutral colour palette of corals and greens, along with custom and sustainable, Australian-made furniture by Tait.
Hibiscus Room food and beverage offering pays homage to the best of signature cuisine classics of the '70s and '80s with a modern twist. Head Chef Ricky Cheung having recently joined, will spotlight sustainable local produce and showcasing technique that he's honed in roles at the acclaimed Mandarin Oriental Hong Kong, Nobu Melbourne, and previous hotel restaurants.
"Hibiscus Room's menu balances the era of '70's inspiration while being a modern dining experience that looks as beautiful as it tastes, taking our guests on a journey of the past or certainly new for our younger guests with each meal and share plate enjoyed," says Chef Ricky.
Signature dishes a must to experience include; entrée of chilled Moreton Bay bug cocktail and free-range pork and cage free scotch egg. Quintessential BBQ grill of local King prawns with chilli and mango salsa, Rockhampton beef rump cap and Southern Queensland lamb loin chops. Chef's signature casserole du jour over the summer months feature a seafood pot with light herbaceous flavours, then transitioning with the season into winter classics. Desserts showcase an iconic Black Forest Trifle, rice pudding with butterscotch and Crêpe Suzette.
As well as the restaurant with indoor and outdoor settings, Hibiscus Room – Events offers a unique venue for private events for bespoke meetings for 65 guests, or up to 150 guests for cocktail parties; an ideal central setting for social celebrations and corporate meetings and events, with full exclusive event hire available.
The menu may have changed since this review.
Hibiscus Room
Level 4, Hyatt Regency
72 Queen St Mall
Brisbane