Coffee Head Co
South Brisbane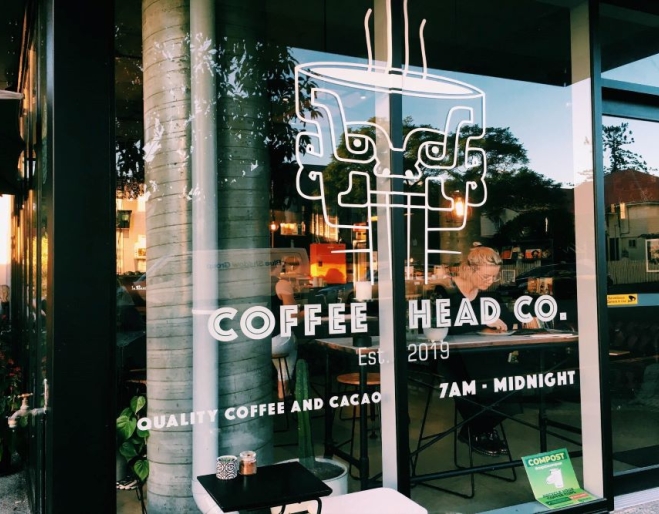 Coffee Head Co is a cool laneway cafe in the heart of South Brisbane, offering specialty coffee, quality cacao and gourmet toasties to die for. 
Open daily from 6am to 6pm, the Peruvian-inspired cafe is all-inclusive with a relaxed vibe, renowned for its friendly customer service. 
Inside, the industrial-style space boasts high ceilings and polished concrete flooring, with art inspired by ancient cultures of South America on the walls; while an adjacent dog-friendly laneway is lined with little tables and stools. 
The cafe's famous toasties are made using quality, locally-sourced ingredients such as free-range ham from Echo Valley Farm, free-range pulled pork and smoked chicken from Low N Slow Meat Co (Tingalpa), and the best cheeses, handmade falafels, and artisan breads supplied by a local bakery. 
For sweet tooths, there's an array of fresh, flaky pastries delivered daily from local artisan bakers, as well as a range of scrumptious cakes including gluten-free and vegan options. 
Meanwhile, coffee aficionados are spoilt for choice with a delicious organic house blend plus rotating single origins, as well as quality cacao. The cafe also offers the best handcrafted and bean to bar chocolate range in Brisbane as well as Mörk specialty hot chocolate.
Need to know - Coffee Head is now licenced so customers can enjoy a sneaky afternoon beer or vino any day of the week with local craft beer and Aussie wines on offer.  
Nice to know - Coffee Head uses compostable packaging and coffee cups. Customers are encouraged to return their cups to the cafe where they'll get picked up and taken to a commercial composting facility.

Coffee Head Co is a valued partner of Must Do Brisbane.com
Coffee Head Co
62 Manning St
South Brisbane
Daily 6am-6pm