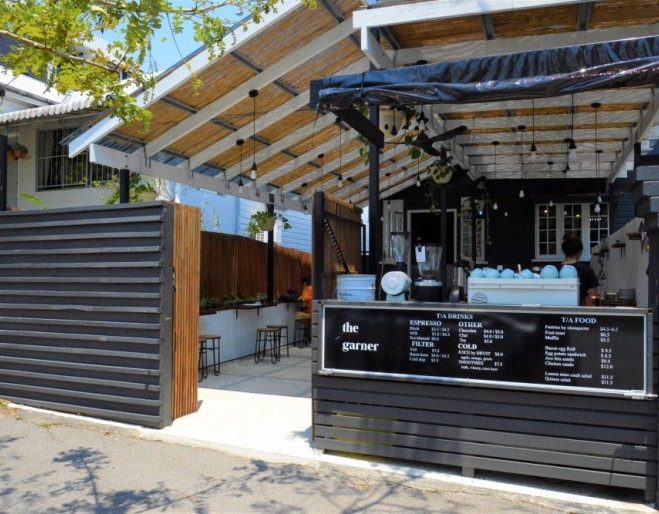 The Garner is a cool, casual cafe in West End serving specialty coffee along with delicious Asian-inspired brunch fare.  
Located on Browning Street, away from the hustle and bustle of Boundary Street, this hidden gem offers relaxed al fresco dining in a covered courtyard and inside a quaint renovated Queensland cottage. 
Co-owned by Ethan Dou (who also owns Street Lab Specialty Coffee in the CBD), coffee aficionados are in for a treat with batch brew, cold drip, and single origins on offer, as well the cafe's excellent house blend by boutique coffee outfit Therefore. In addition, you'll find brews on rotation by roasters like Almanac, Passport, and Reuben Hills.  
The concise menu includes flavour-filled breakfast fare with an Asian twist such as baked miso eggs with eggplant, pumpkin and melted cheese, soy braised wild mushrooms with onsen egg, and black rice pudding with banana, mango and coconut cream. 
Otherwise, there's lunch-style dishes like chicken katsu sando (deep-fried panko chicken katsu wedged between miso glazed rice patties), soba noodle salad with deep-fried five spice tofu, and slow-cooked hatcho miso beef cheek.
There's also a small selection of grab-and-go items such as pastries by Chouquette, muffins and more. 
Besides coffee, there's masala chai, matcha latte, Somage organic teas, Somersault craft sodas, Harvest St juices, and house made wholesome smoothies like the delectable Coco-Loco - mango, pineapple, coconut, lime and mint. 
Nice to know - This charming indoor/outdoor space is available for private functions.
By Deb Lidster
The Garner 
2/27 Browning St
West End 
3844 3295