Eat Street Northshore
Hamilton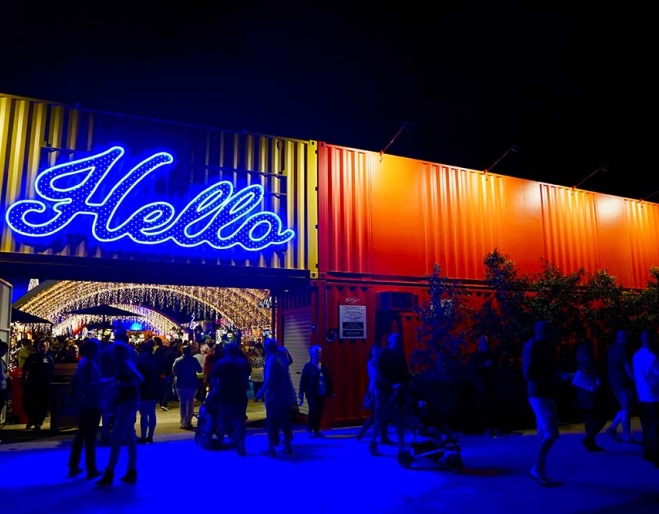 Eat Street Northshore, Hamilton's iconic riverfront shipping container dining destination, dishes up delicious food*, drinks, desserts and the best live entertainment in town.
As well as being a colourful, affordable dining hub for all the family, Eat Street Northshore is a great place to mingle, browse, meet friends and absorb the sights, sounds and aromas, as the sun sets over the Brisbane River and city skyline.
Set in amongst 180 re-purposed shipping containers, there's an amazing array of street food, drinks and shops, plus 5 entertainment stages.
The precinct contains many seating areas with different styles of tables and chairs including bench seating, dry bars & cafe-style. Plus, there are several private dining rooms which can be hired for special events overlooking the river.
Patrons can choose from a huge selection of food from all over the world - satisfying many of the popular cultural dishes. There are 5 bars serving everything from local beer brews to elaborate cocktails, as well as a good variety of wines, both bottled or on tap.
AsiaStreeet is a bustling Asian precinct with food from every corner of South East Asia including hot, steaming dumplings, delicious Bao & Peking Duck pancakes, and it features BarAsia - serving a variety of beer from all over Asia.
The TrawlerDeck includes its very own Moreton Bay prawn trawler, where visitors can seat themselves around the boat's hull with their fresh seafood meals. The deck is filled with delicious fish and chip vendors, calamari and a freshly-shucked oyster bar.   
One of the most popular attractions at Eat Street is KombiAlley, where everyone can indulge in delectable sweet treats such as Funnel Cakes, Doughnut Fries, Conuts, Mangos with Soft Serve Ice-cream and Watermelon Slice. Or get your fix of fluffy Japanese pancakes inside the HELLO gate.
There are plenty of beverage choices at Eat Street, too - including fresh juices, many varieties of organic herbal teas, Bubble Tea and American-style milkshakes and delicious mocktails also on offer. 
It's not all food & drink at Eat Street either, with a range of shops sprinkled throughout including a plant stall, DIY candle making, doggie treats and gear, plus Fairy Floss. 
Need to know - There are two free car parks on site, as well as a third car park to handle overflows. Entry is $5 for adults, with children 12 and under free.
Eat Street Northshore is a valued partner of Must Do Brisbane.com
Eat Street Northshore
221D Macarthur Ave
Hamilton
Entry $5 
Child 12 and under free
0411 884 499
Map
Hamilton<br />Eat Street Markets Hamilton