Dining at Eagle Street Pier
Brisbane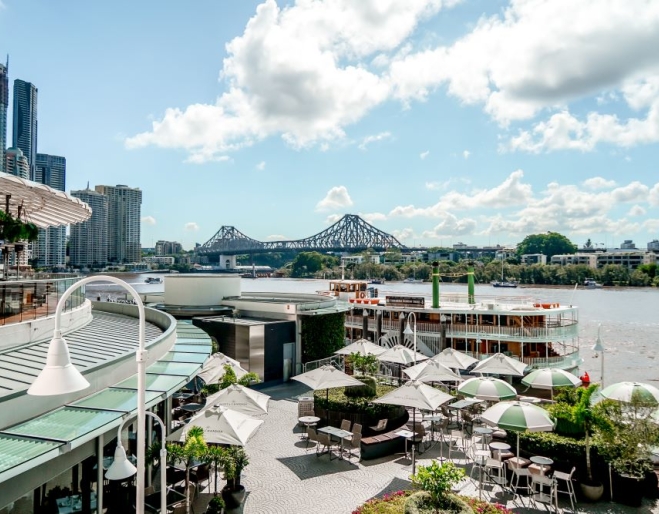 Eagle Street Pier has experienced an exciting remix and seen the introduction of a number of fresh new restaurants including Naga Thai, Fatcow Steak & Lobster, COPPA and City Winery.
This refresh, along with unparalleled views of the Brisbane River and iconic Story Bridge, certainly cements Eagle Street Pier as Brisbane's premier riverfront dining precinct.
COPPA offers a delectable taste of Italy with a seasonal menu that combines the rich tradition of coastal Italian cuisine with bountiful Australian ingredients. Delicious Italian fare, vinos and al fresco dining with a stunning view...does it get any better?
Fatcow Steak and Lobster delivers a beautiful al fresco dining experience serving up quality cut meats, plus the opportunity to indulge in Australia's finest and freshest lobster sourced from Tasmania and Western Australia. Following a meal, guests can lounge in the Whisky and Wine Bar where they can sample from over 150 whiskeys and exceptional wines. 
Brisbane's Number One seafood restaurant, George's Paragon, offers their famous Yes Sir! Half Price Lunch menu and Half Price Dinner menu when seated between 5:30pm-6:30pm. 
Kookaburra Showboat Cruises is where great food, exciting entertainment and spectacular cruises come together. Whether it's a weekend lunch or evening dinner cruise, the Showboat's Brisbane Cruises are a must do for all visitors and locals alike. 
If you're looking for a stylish wine bar, elegant cocktail lounge, and stunning views of the river and city, look no further than Mr & Mrs G Riverbar. Nestled upon the water's edge at Eagle Street Pier, Mr & Mrs G is an inviting CBD destination. 
Naga Thai pays homage to Bangkok and the northern villages of Thailand through a balanced mash-up of freshness, spice, heat and herbs, with a focus on quality Australian produce and local seafood. The wide-ranging drinks list includes fresh and fruity concoctions, a concise and accessible wine list, and house specials like lychee wine and the restaurant's signature Nagaroni. 
Rico Bar & Dining showcases a fusion of Australian, Spanish and Latin flavours. From a casual bar area to seated table service, diners can enjoy al fresco riverside dining, fabulous service and delicious dishes. And if you're looking for an extensive wine and cocktail menu, Rico will not disappoint. 
Transport yourself to the beer halls of Bavaria with steins of local brew and authentic German delights like giant pretzels, pork knuckles and schnitzels. The Bavarian is a local hotspot for corporate lunches, after-work drinks, celebratory events and general weekend fun. 
At Saké Restaurant & Bar, contemporary Japanese cuisine is prepared by the renowned Saké Chefs with a contemporary twist. Creating innovative flavour combinations, the Saké team provides diners with the very best in Japanese cuisine.
With so much choice on offer from an array of award-winning restaurants and bars, plus uninterrupted views of Brisbane's iconic Story Bridge, you can't go past Eagle Street Pier as the place to be.
Eagle Street Pier is a valued partner of Must Do Brisbane.com
Eagle Street Pier 
45 Eagle St
Brisbane CBD