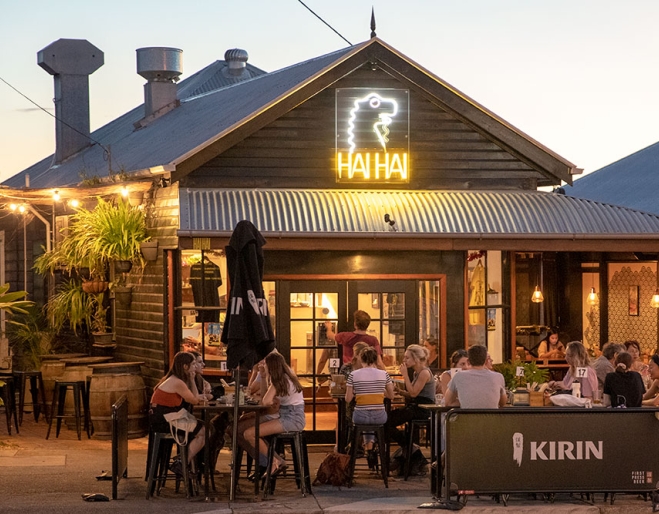 Hai-Hai Ramen is a little Japanese ramen bar found in a black worker's cottage on Paddington's Latrobe Tce.
The menu at Hai-Hai (Japanese for 'yes yes') consists of just 3 delectable ramen dishes – pork, chicken or vegetarian (shio or soy) with accompaniments and sides, available for dine-in or take away.
Diners get to order from the counter then pull up a stool on the covered timber deck, in the main room or in the cosy little dining alcove behind the deck.
Pork ramen consists of pork bone broth, charsui pork belly, black garlic oil, nori, hanjuku egg, pickles, sesame and shallots with thin noodles while chicken ramen is a mix of chicken and dashi broth with Shio Koji chicken, hanjuku egg, nori, pickles, shallots, sesame and thick curly noodles.
Meanwhile vegetable ramen consists of kelp and shiitake broth with greens, tofu, enoki, shiitake, sesame, nori, shallots and thick curly noodles.
To make a real meal of it extra toppings of charsui pork belly, miso butter, shio koji marinated chicken, menma and hanjuku egg are available and to accompany there are Sides of Steam Buns (Chrasui and Gochujang or Tofu Katsu), Sweet Corn with miso butter, Japanese Coleslaw with perila dressing or Karaage (with koji marinade and yuzu kewpie).
Drinks-wise, there's Kirin or Orion beer and a small selection of Japanese whisky  - Suntory, Kahushu (12yo or Single Malt) or Nikka (from the barrel or Taketsuru).
Wine – red, white and rose – comes by the glass or bottle with standard or premium options and otherwise there's coke, Kickapoo lemonade and Sparkling Water. Or diners can help themselves to chilled bottles of tap water and glasses.
Hai-Hai Ramen
102 Latrobe Tce
Paddington
Licensed
3108 2240
Map
102 Latrobe Tce Paddington