Amy Sergeantson Chocolate
Brisbane Cbd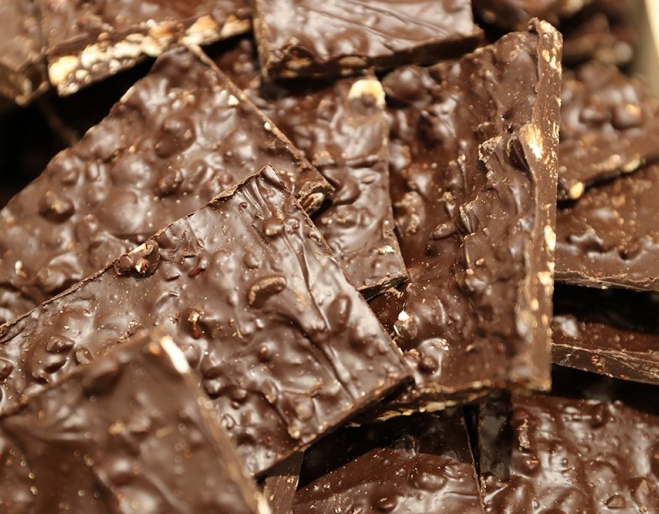 Amy Sargeantson, chocolate maker and founder of the Noosa Chocolate Factory and The Dark Chocolatier, has opened another chocolate shop in Brisbane CBD, serving specialty coffee, signature hot chocolates and hand-crafted chocolate treats.
Located next to H&M on Adelaide Street, the no-frills, self-serve fit-out showcases a range of delicious, chocolaty treats – made fresh in Brisbane - including dark chocolate brownies, milk and dark chocolate slabs, and chocolate-coated seasonal fruit and roasted nuts from Australian farmers.
Timber crates are filled with mouth-watering goodies like big chunks of dark chocolate with tart cherries, Yandina ginger and roasted almonds, or take home some chocolate covered goji berries, strawberries, macadamias or coffee beans. 
Coffee on pour is a house blend roasted locally, served along with rotating single origins. Besides coffee, there's a sweet selection of chocolate drinks such as mochas (made with house blend espresso and milk or dark chocolate), iced chocolates and iced coffee, and rustic hot chocolates – think 100% dark chocolate, dark orange, peppermint, caramel, coconut or hazelnut.
*Opening hours correct at time of visiting in October 2018.
By Deb Lidster
Amy Sargeantson Chocolate 
133 Adelaide St
Brisbane 
Mon-Fri 8-4*
Sat 9-4*
Map