Rothwell's Bar & Grill
Brisbane CBD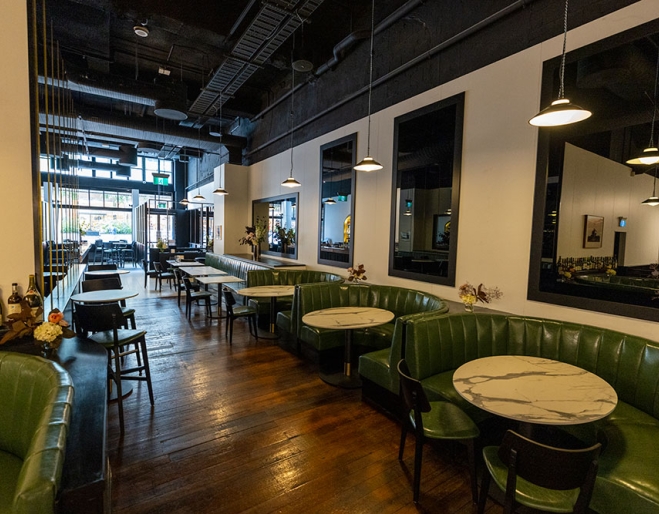 Rothwell's is a glamorous old world bar and grill located in the ground floor of heritage-listed Rothwells building (circa 1885) on Edward St Brisbane.
Taking its name from tailor and outfitter Thomas James Rothwell who once owned the building, Rothwell's takes inspiration from classic grill restaurants around the world such as The Savoy Grill in London and The Musso & Frank Grill in Los Angeles.
Patrons can expect a high end timeless yet approachable dining experience in a setting that oozes vintage charm and style, for any occasion and at any time of the day. 
Walls are lined with cosy leather banquettes featuring vintage table lamps for a more intimate dining experience, while stunning bespoke chandeliers add to the ambience.
The centrepiece of the 90-seat dining space is striking expansive white Italian marble seated dining space the Marble Bar, where jacketed chefs shuck oysters onto custom silver trays that were handmade in London exclusively for Rothwell's. 
On the restaurant menu, which has a retro flavour, you'll find appetizers such as French onion dip with chives, lemon and crisp bread, oysters with mignonette dressing or San Daniele ham with pickled chili.
For Starters, choices include steak tartare with potato crisps; raw scallop with lemon, capers, and bottarga; Caesar salad or prawn cocktail (prawn with lettuce, avocado and cocktail sauce). Or to share there's a delectable seafood platter of oysters, prawns, scallops and tuna (minimum 2 ppl).
A tempting pasta menu includes pappardelle with beef and tomato ragu and parmesan; spaghetti with spanner crab, chilli and garlic or potato gnocchi with blue cheese sauce, walnuts and celery leaf.
And from the grill diners can choose from Wagyu Pave, fillet steak, rib eye, wagyu rump or T bone, all served with onion rings, watercress and selection of mustards, horseradish or Bearnaise sauce or Moreton Bay bugs with Cafe de Paris butter.
Other choices include duck cassoulet, confit leg, Toulouse sausage, pork belly and white beans or reef fish with roast fennel, tomato and basil vinaigrette whilst a signature dish to share is the Beef Wellington with red wine sauce (min 2 ppl).
For dessert there are delicious options like pistachio brulee with chocolate gelato, fresh baked madeleines with whisky caramel dipping sauce or berry salad with brown butter ice cream.
The 40-seat Foyer Bar serves timeless cocktails, including the star of the menu - a martini served bracingly cold in a smaller coupe glass, with a top-up served alongside in an iced silver carafe to keep it at the perfect temperature.
Other classic drinks such as The Old Fashioned, Gibson, Negroni and Hemingway Daquiri are a perfect match for the classic bar menu including oysters, niçoise salad or a club sandwich.
The carefully curated wine list features drops by a mix of well-known and smaller producers from Burgundy, Chablis, Bordeaux, Champagne and Barolo as well as classic vintages from Australia's best-known names including Cullen and Wendouree. And  why not finish the night with a digestif from the dedicated Armagnac cart where bottles have been collected from Europe over the past decade dating back to the 1920s.
Good to know - An intimate private dining room, located in the restaurant's cellar and surrounded by sandstone walls lined with more than 2,000 of bottles of wine, is the perfect space for up to 50 seated or 100 standing guests.
Need to know - Use the code ROTHWELLS1 for $8 parking at Queens Plaza car park from 4pm Tuesday till Friday, and all day Sunday. Book parking here.
Image credits: Food, drink & chandelier images courtesy of Rothwell's Bar & Grill
Rothwell's Bar & Grill
235 Edward St
Brisbane 
3038 1169