Brookwater Barista
Brookwater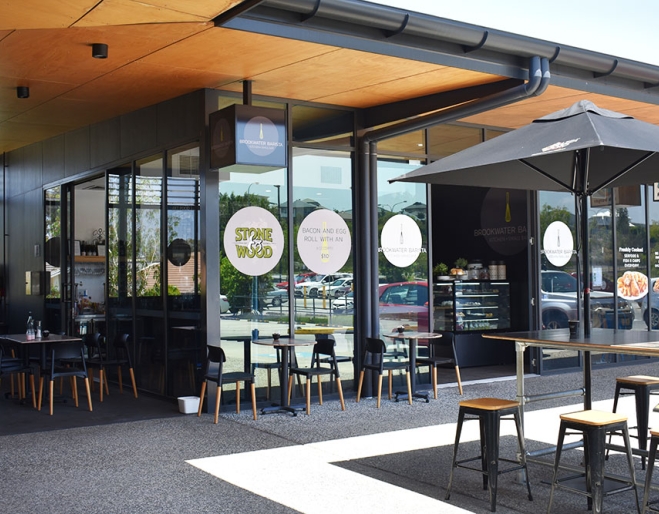 Brookwater Barista is a slick contemporary light-filled eatery with a foodie's menu and an undercover al fresco eating space, located in Augustine Heights.
Serving breakfast, lunch and Saturday night dinner, Brookwater Barista also offers Piazzo D'oro coffee, teas, juices and fresh smoothies to accompany plenty of delicious sweet and savoury home baked treats in the display cabinet.
Dine in breakfast (6am - 11.30am) ranges from house roasted granola and spiced Cuban brunch (slow-cooked pulled pork with lamb & rosemary sausage) to 3-egg open omelette (free-range) and zucchini & sweet corn fritters.
Lunch (available from 11.45am) includes crisp pork belly Vietnamese salad, roasted pork with apple sauce, American Wagyu burger, Spanish linguini pasta (chorizo, garlic prawns, cherry tomatoes), pizza, house-smoked hot salmon, Moroccan lamb salad and tandoori skewers.
And, for Saturday night dinner, diners can enjoy entrees such as seafood chowder, hand-made chicken, lime and coriander spring rolls, wild mushroom arancini or lemon pepper squid and mains of Tasmanian Cape Grim lamb shank with Irish vegetable mash or house-made linguine, while desserts include tiramisu or house-made German strudel.
By Lucy Hordern
Brookwater Barista
85 Leon Capra Dr
Brookwater
Licensed
3466 4865