Reverse Garbage
Woolloongabba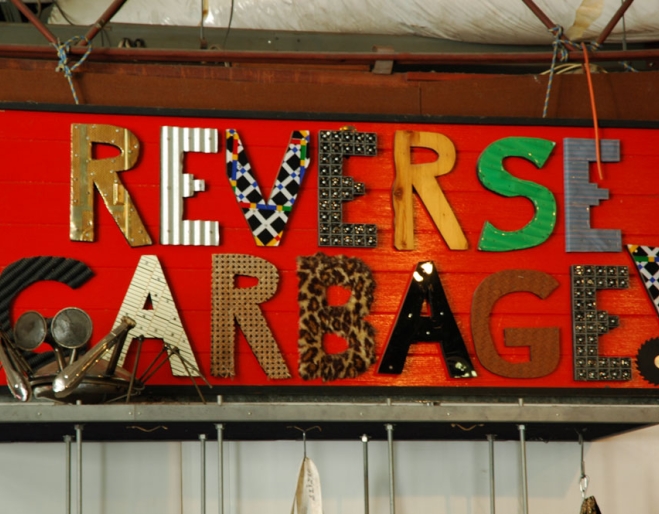 Hidden up on a hill between a hospital, tunnel and a gaol, Reverse Garbage can be tricky to get to* but this junkyard of creativity is well worth the effort to track down.
And for those with children, forget the DJ's toy department, this is one place where they and their imaginations can run loose and gather stuff galore without fear of breaking the merchandise or the bank.
Don't be put off by the dishevelled entrance that resembles a batch of kerbside council pick-ups, because inside is the cheapest range of creative materials under the sun, complete with a gallery/shop to show the imaginatively challenged what can be done.
Drums of foam and felt, fabric and carpet scraps, recycled cards, spools of ribbon, pegs and plastic wire are sold by the bag or kilo (e.g. office bulldog clips for $20/kilo) while anyone who has a minor annoying household repair pending may find their brass caster for 20c, zipper for10c, that curtain rod, lock and key, picture frame and even the odd kitchen sink for not much more.
If household stuff's a bore check out the PA Hospital offloads including surgical gowns and plaster casts of teeth and feet, all going for a song.
And anyone who doubts that this stuff can be turned into objects of beauty should check out the gallery/shop - funky handbags made of inner tubes, bracelets woven from old tyre rubber, earrings from recycled computer circuit boards and saucepan necklaces, huge chooky cushions made from fabric shreds and delicate paper light fittings, all for sale.
During school holidays fantastic 2 hour eco craft workshops are held here mornings and afternoons for children from 3 to 15, with themes from puppetry and pirates to wizardry and robotics. Cost is $20 per child.
*If coming from the south by car, those who wish to steer clear of the confusing signage and gaping jaws of the Clem Jones Tunnel on Ipswich Rd are better off taking the Annerley Rd/Park Rd approach to Burke St.
Reverse Garbage
20 Burke St
Woolloongabba, Brisbane
Park Rd Station
38919744
Map
20 Burke St Woolloongabba