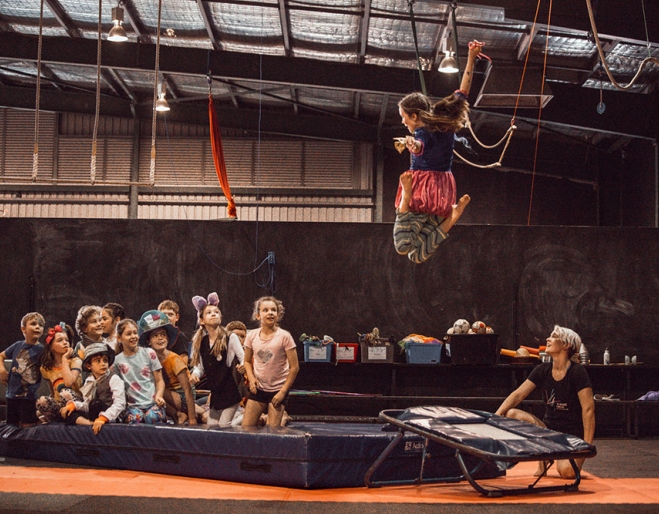 Brisbane's popular Flipside Circus provides a unique opportunity for young people to show off, take risks, trust, dream and aspire, to work hard, to laugh, and to have fun.
Flipside, which has been in operation for 20 years, teaches circus arts as a valuable tool in the development of confident, physically aware and social children. Not to mention that learning to juggle, fly on the trapeze or balance on the tight wire is a tonne of fun for everyone involved.
Flipside's impressive range of classes cater to children and young people from absolute beginners through to advanced circus performers. The classes are all non-competitive and take place within an inclusive, safe and supportive environment.
All participants have the opportunity to perform in front of family and friends at Flipside's annual school show, while the performance program artists perform in professional venues and community events throughout Brisbane. 
School term classes are as follows:
Kindy classes (18 months to 7 years with parent/carer)
Flipside Circus' Kindy classes are a great place for toddlers and young children to explore touch, sound, movement and social settings in fun, play-based circus classes.
Wriggles (18 months - 3 years) and Giggles (3 - 4 years): Play-based workshops for little people and their big people. The workshops help increase body awareness, gross motor skills and are a fantastic way to begin socialising in a safe environment. 
Flipperoos (4 - 7 years) a bouncy and active play-based circus class that allows young children to learn circus skills. The class helps children learn to participate and socialise independently. 
Beginners (6 to 12 years)
Taste of Circus/Circus Foundations: fun workshops that help to develop general circus skills, the perfect introduction into the magical world of circus. 
Intermediate (10 to 17 years)
Intermediate Circus/Risky Business: classes for participants with some circus or gymnastics experience who are looking to develop their skills. 
All Abilities
Explore the Possibilities (3 - 10 years): circus is for everybody, providing for children with disabilities and additional needs. Held in conjunction with On Call Children's Therapy, classes include a full range of circus skills such as trapeze, tightwire, tumbling, trampoline, juggling, hoola hoop, tissu and more.
Specialist Classes 
Flipside Circus offers a range of specialist classes for those wanting to improve their circus skills, work on their technique or perfect an act. 
Classes include Mixed Aerials (more complex skills in tissu, trapeze, lyra, and Chinese pole), Juggle (individual as well as complex group and pass juggling), and Tumbling (advanced acrobatics on the floor and trampoline). 
Performance Program
Flipside Circus' performance program participants work with a regular team of extraordinary trainers and guest artists to intensively advance their skills, and mentor them towards performance. 
The Flipside Circus Performance Troupe (8 to 18 years) and Step Up artists perform regularly at inhouse shows, school fetes and community events. On top of this, they perform in professional environments at venues such as The Judith Wright Centre, The Powerhouse, Woodford Folk Festival, Sydney's Hoopla Festival, Adelaide Fringe Festival and more.  
Birthday Parties
A circus birthday party encourages children to get active, play together, learn new skills such as teamwork and most importantly - have a great time in a safe, healthy environment. 
Parties are facilitated by professional circus trainers at the Alderley Training Centre, with activities including warm up, fun circus games and various circus skills such as mini tramp, juggling, trapeze, tissu (silks), trampoline, flower sticks, hula hoops, acrobalance and more. 
The birthday party ends with the cutting of the cake and a special circus performance by the birthday kids.
Free Trial
Run away to the circus and join Flipside for a FREE TRIAL in any of the above classes. 
Flipside Circus
117 Mina Pde
Alderley
3352 7233
Map