Korean Butterfly
Woolloongabba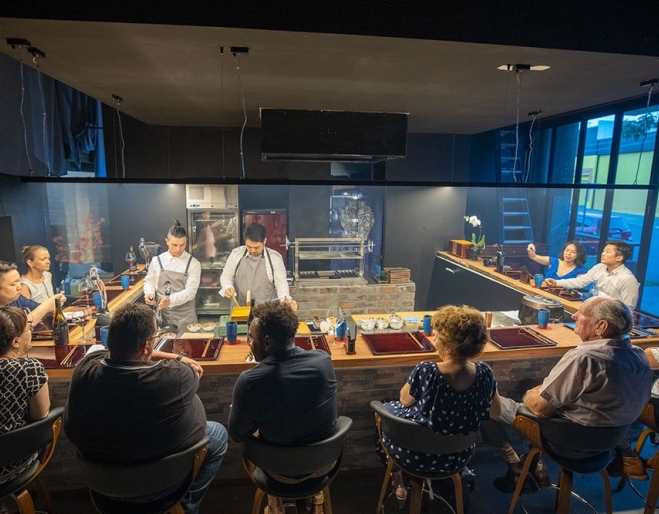 Korean Butterfly is a tiny Korean fusion restaurant unlike anything else in Brisbane, helmed by 2 Michelin-trained chefs and occupying a darkened dining room inside a Woolloongabba warehouse.
From the minute you step through the glass doors into the all-black interior, it feels like you've time travelled from Brisbane to South Korea. To the left of the entrance, a shrine can be found in the corner, the smell of charcoal fire fills the air and a group of diners sit huddled at the benches around the open kitchen where the chefs take the stage like 2 performance artists.
With just 14 seats at the counters, Butterfly also offers 2 tables for 4 along the wall, next to the shrine. Those who sit at the open kitchen get to see the chefs (Alex Kim and Emanuele Polenero) at work, chopping, beating, mixing and cooking up a storm in front of the diners.
For dinner, there's a chef's degustation-style menu of 14 courses, taking inspiration from both South Korea and Japan, with each prepared from scratch as you watch and served to you directly by the chefs. Everything is served on beautiful traditional crockery and tableware and customers who bring red wine are offered their own personal state-of-the-art aerator to use as a decanter.
The menu, which starts with a refreshing amuse bouche, includes dishes that you won't be served anywhere else in Brisbane, such as a Japanese egg roll meticulously cooked in layers and spread with radish; pumpkin porridge; puled pork with hand-made sriracha in lettuce cup; or 5-day  kimchi soup.
Sushi and sashimi feature in the menu, with dishes like Atlantic salmon aged 6 days in sake, soy and brandy; prawn sushi; or toothfish and sea urchin, while 'mains' include delicacies like wagyu beef or Korean chill paste-marinate pork cooked on the open charcoal fire.
Other treats include the chefs' homemade kombucha and the house-made sourdough which is a signature of chef Emanuele Pelonero, who brings an Italian taste to the table. 
As well as the chef's menu by night, Butterfly opens for a more casual lunch with an a la carte menu featuring Korean BBQ dishes and noodles.
Good to know - Alex Kim (owner and head chef) has worked in Seoul at one Michelin-starred Lee Jong Kuk 104, as well as Dunai, Singapore and New Zealand while Emanuele Pelonero has worked at one Michelin-starred Il Piastrino and Accursio Ristorante in Italy and Texture in London.
Need to know - Korean Butterfly has two 2-hour dinner sessions, one at 5.30pm and one at 8pm., with a maximum of 22 diners per sitting. You'll find the restaurant behind glass doors, just around the corner from Balaklava Street. (At the time of visiting in December 2020 the restaurant was BYO and is awaiting a liquor licence). 
Korean Butterfly
77 Jurgens St
Woolloongabba
0466 322 557