Taya Kitchen
Asian Cooking School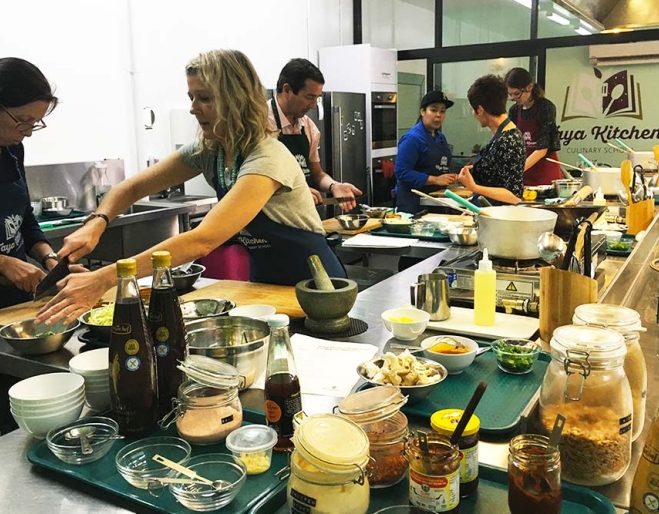 Tucked away in a commercial area of Enoggera is Taya Kitchen, the home of one of Brisbane's best Asian cooking schools.
With powerhouse chef / owner Taya Meeikeaw at the helm, the Taya Kitchen experience is multi-faceted and focusses not only on teaching you how to easily recreate the exotic flavours of your favourite Asian and Thai takeways at home, but also about honing your cooking skills, regardless of your level. From kitchen newbie to Iron Chef wannabe, Taya Kitchen's doors are open to everyone across all ages.
Classes are intimate so you have a wonderful, relaxed opportunity to meet other like-minded cooks, and, through her friendly and warm teaching style, you feel that instant connection with Taya and the others in the class - the perfect learning environment. 
But don't be mislead... Armed with a delightfully witty sense of humour, a beautiful smile and effervescent enthusiasm, Taya still manages to drive a tight kitchen. And with the number of dishes to get through in the 4-hour class (usually 4), she calmly reminds us that whilst Asian cooking is good for the soul, it is about fresh, quick flavours that demand our attention and that we need to focus on the task at hand. A minute wasted can be the difference between crispy perfection and a soggy rejection. 
Allocated a well-equipped work station each, you pair up and get started. Easy-to-follow, step-by-step notes are provided and are yours to take home. All the ingredients for the dishes you'll be preparing are ready at your fingertips, so other than ensuring you're wearing closed in shoes, there's nothing you need to take. 
The classes are designed to give each participant a hands-on experience, and for each dish, one of you will do the food prep and cooking while the other works at measuring and mixing the all-important sauce elements. You then swap roles for the next dish.
Vegetarians, vegans and those with food intolerances and allergies are easily accommodated - you simply need to let Taya know when making your booking and the team will take care of the rest.
Available on-site to purchase are a selection of the key ingredients that you've used throughout the class. The likes of soya sauces, ketchap manis (a sweet and thick soya sauce), fried garlic, sauces galore, Asian delicacies and more are all stocked at better-than-supermarket prices and will bring out the 'authentic' in your home kitchen Thai escapades. 
And what's Taya's tip for where to get the best Thai and Asian ingredients in Brisbane? For both value-for-money and for an extensive variety, Taya says you can't do much better than heading to Asian grocery stores in Fortitude Valley, Inala and Sunnybank, where you'll discover a range of brands and foods (often including fresh herbs and Asian greens in abundance) that aren't usually found in your mainstream local supermarket.
Loving to impart little pearls of wisdom and anecdotes that stem from her life growing up in a small rural village just 3 hours outside of Bangkok, Taya takes us on a journey through the history and culture of her upbringing. Her philosophy is that we should train our palate to better appreciate the flavours we cook with. Adopting the art of cooking outside of our comfort zone is, she believes, one of the best ways we can achieve this.
Taya opens her heart and invites everyone in, and it's not hard to see why she has a strong following of repeat clients. By the end of the class, it feels like you've known her forever and you're just catching up socially with a really close friend.
If you find the flavours you create familiar, it's for good reason. Taya's food is not new to Brisbane's Thai scene, having worked alongside her mother at Auchenflower's well-known My Thai Restaurant for many years before she headed up the team that opened a very successful Thai take out in Milton. Her love of people and a strong desire to extend herself with a new challenge drove her to start Taya Kitchen in 2016.
The 4-hour class, which flies by, ends with the group relaxing together to feast on the flavour-packed and vibrant Thai dishes we've impressively prepared ourselves. Looking across the table, it's hard to believe we're not actually sitting in downtown Bangkok!
Nice to know - You're welcome to take home any left-over portions of the meals you've cooked.
Nice to know - Kid's Asian Cooking Classes are run through-out the school holidays and Parent & Child Cooking Classes are regularly on offer. This cooking school is the perfect activity for singles, couples, or groups. Private cooking classes are also available by appointment. Check the website for details. 
Need to know - Limited parking is available onsite, but there is plenty of street parking.
By Danella Perrins
Taya Kitchen is a valued partner of Must Do Brisbane.com
Shop 18
254 South Pine Road
Enogerra
Classes: Thu, Sat + Sun
Bookings Essential
Private Classes by Appt
0429 789 444
Map
254 South pine road, enogerra