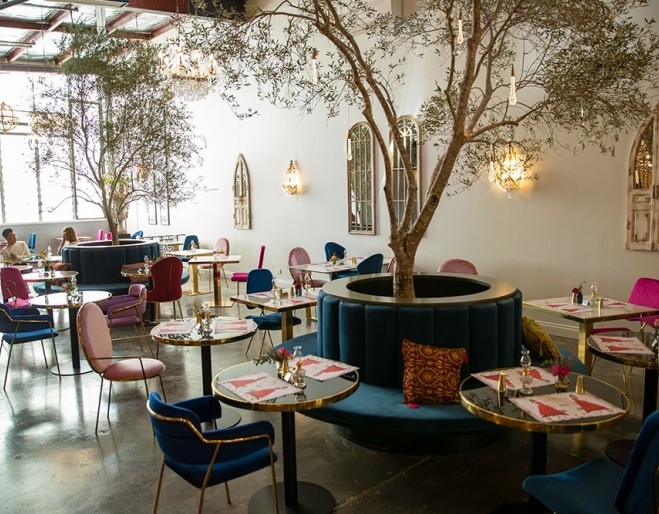 The Matriarch is an historic Newstead warehouse turned exquisite 19th century French-style bar and dining oasis where you can partake in an all day menu from brunch to late night supper, as well as high tea and cocktails.
Enter via the vintage wrought iron gates to the charming al fresco garden terrace from where carved wooden doors lead to a splendid high-ceilinged atrium that is a world away from the streets outside.
Covid-19 Update: The Matriarch is reopening on June 13th for bookings of up to 14 people, from Thursday-Sunday 11am-late, with High Tea available in new table service format from 11am-4pm on Saturday and Sunday. For bookings of 14+ email info@thematriarch.com.au. Otherwise book online HERE
A destination for every occasion, The Matriarch has an eclectic all day dining menu, a high tea service that is unlike any other in Brisbane, an exotic tea selection and a fabulous cocktail bar that is licensed from 11am daily.  Customers can take a seat on the gorgeous pink and gold patio furniture or inside on the plush royal blue and hot pink velvet banquettes, chairs and stools.
Adorning the stunning indoor space are 25 year old olive trees, giant urns of flowers, crystal chandeliers, kerosene glass lanterns, antique carved windows and ornate lace iron panels, while tables are marble topped and chairs are trimmed with gold. Attention to detail carries over to the bespoke cutlery with twisted wrought iron handles, gold teapots, crystal glasses and hand painted crockery.
Despite the opulent setting and trimmings, The Matriarch offers casual and affordable dining (most dishes are under $20) for all to enjoy up until 10pm at night and welcomes everyone including families with kids. This is the rare venue where a group can come in and whilst one sips on champagne, another has coffee and another a meal, at any time of day.
On the menu, of which anything can be ordered at any time of day, are Small Bites such as Matriarch goats cheese balls, spicy chicken stay skewers, crispy lobster sliders, cauliflower bites and BLAT or smoked salmon and cream cheese bagel. To share are Trio of Sliders( including pulled pork & slaw; southern fried chcieken, lettuce and mayo; grilled halloumi cheese or mushrooms and tomato salsa), pulled pork pancakes, chips 3 ways (sweet potato wedges, scallops and fries), topped Turkish breads or the copious Heirloom Vegetable Board.
Mains include porterhouse steak, fish and chips, bangers and mashed potato, smoked chicken Caesar salad or grilled salmon and avocado mousse salad while for dessert there's cookies and cream cheese cake (NY style), sticky date pudding or Death by Chocolate. The Matriarch also has a top selection of cheese boards featuring from 2 to 6 cheese varieties including Swiss, French and Australian. 
The Matriarch is also the go-to for Brisbane's most unique (bottomless) high tea, whereby tea trolleys are wheeled from table to table bearing an assortment of teas and delicacies, accompanied by champagne, tea, coffee and even cocktails.
Not just a place to dine The Matriarch is also one of Brisbane's best bars, with an extensive cocktail list including cheeky signature cocktails such as Taking My Tai Off, Party for Two, Prickly in Pink and Matcha Butcha. There are also a mix of reinvented and classic cocktails like Skinny Vodka Latte, Bubble Bae and Re-Fashioned. Another house specialty is the De-Constructed G & T and the Koyomi Highball (shochu blended with yuzu and lime, blood orange and bitter or mandarin and grapefruit).
At any time of day or night, customers can also enjoy a selection of well-brewed coffee, The Matriarch Special Ice tea, TWG teas such as Moroccan Mint , Earl Grey or Black Chai or Tavalon Teas like Crimson Punch or Rose Oolong. There's also a choice of fresh juices.
Need to know - There are function spaces available, including the front garden with its own bar, which can be cordoned off for exclusive use for groups of 20+.
The Matriarch is a valued partner of Must Do Brisbane.com
The Matriarch
22 Masters St
Newstead
3852 6792