Kondalilla Falls
National Park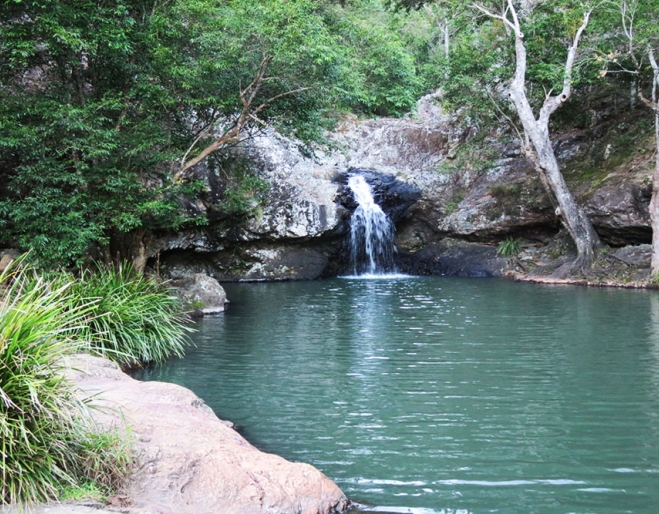 Kondalilla Falls National Park occupies a stunning corner of the Blackall Ranges in the Sunshine Coast Hinterland. The highlight of any visit is a refreshing dip in the fresh water rockpools of Skene Creek, surrounded by sub-tropical rainforest. 
Kondalilla means 'rushing waters' in the local aboriginal dialect, which is a fitting description of the region, especially during the summer wet season. The park is home to a diverse population of native animals, including 32 species of frogs, 107 species of birds, as well as many wallabies, platypus, goannas and bush turkeys. 
There are sheltered picnic and barbecue facilites at the park entrance, and there are three main bush walks within the park, ranging in length from 45 minutes to three hours. The shortest walk is the Picnic Creek Circuit (1.7 kms) which winds through wet eucalyptus forest, as well as pristine rainforest en route to the natural rockpools at the top of Kondalilla Falls.
The Kondalilla Falls Circuit (4.7 kms) passes the rockpools which eventually drop ninety metres to the valley below. The track then descends down the escarpment into the Obi Obi Valley through rare Piccabeen Palm and Bunya Pine groves. This walk includes 100 steps which may become slippery during times of rain, however the view looking up to the falls makes every step worthwhile. Just be prepared to walk back up all those steps again on the way back to the car park.
For the more ambitious hiker, The Sunshine Coast Great Walk (58 kms) passes Kondalilla Falls during the first section of the walk. Always check on the National Parks website for any changes to track accessibility before undertaking any bush walks in the area.
By Lucy Hordern 
Kondalilla Falls Road is located in between the towns of Montville and Mapleton