Purga Nature Reserve
Purga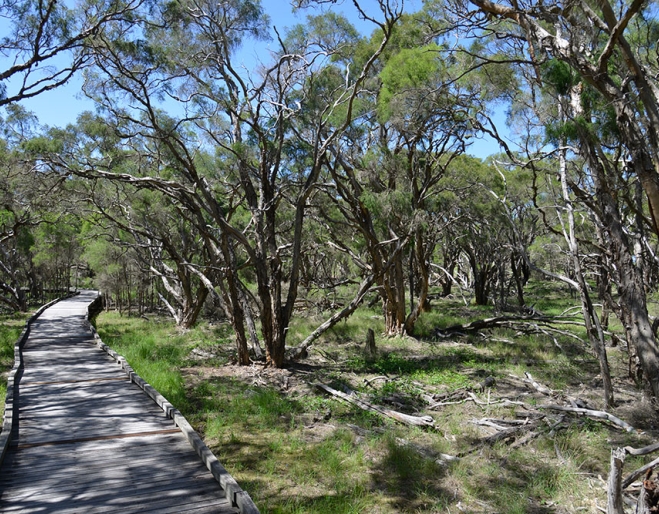 Just 15 minutes from Ipswich is Purga Nature Reserve, a very pleasant place to pop in to if you're in the area, with two Class 2 tracks for easy level walking.
It's not far from popular tourist spot, Ironbark Ridge Vineyard, so make it part of a day trip. It's an easy drive just off the Cunningham Highway with lovely views out to Flinders Peak, and if you go via Purga School Road, you'll see several multi-coloured alpacas on a nearby farm.
Purga Nature Reserve has the largest remnant of Swamp Tea Tree protected in Australia, and there are short, self-guided walks amid the ghostly, ashen trees including the 350-metre wheelchair-accessible Tea Tree Boardwalk Circuit. 
The Aboriginal Ugarapul people say that the word Purga is derived from 'pur pur' meaning a meeting place, with the reserve being a peaceful place to meet up in a group and have a picnic or to simply enjoy the sights and sounds. The popular frog pond, depending on the time of year and rainfall, is host to the Green Treefrog, Eastern Sedgefrog and Striped Marshfrog, and if you're lucky you might see koalas or echidnas which inhabit the area. Also, keep your eyes peeled for willy wagtails, skinks and only rarely, red-bellied black snakes. On our morning walk, we were thrilled to see two Eastern Grey Kangaroos lazing in amongst the trees then hopping away when they spied the interlopers on their territory. 
The wetlands was dry at the time but if there's been rainfall the raised Tea Tree Boardwalk Circuit allows visitors to keep their feet dry as they take in the drooping Tea Trees, their flaking pale bark creating scenes that are truly an artist's delight. (The boardwalk was built by ten trainees employed as part of the Green Corps Program in 1997-98.) 
There's also the longer Melaleuca Circuit which is still a fairly short stroll on flat land with occasional small holes made by animals digging. Native herbs, wildflowers and ground covers ensure the reserve remains an inviting habitat for birds and other local animals. 
Need to know: Purga Nature Reserve is open in Summer, 1 Sept-31 March from 6am to 7pm and in Winter, 1 April-31 Aug from 6am to 6pm. 
Good to know: There are picnic tables, compost toilets and drinking water.
by Vicki Englund
And, for more great things to see and do in Ipswich, visit Discover Ipswich HERE.
Purga Nature Reserve
840 Middle Rd
Purga