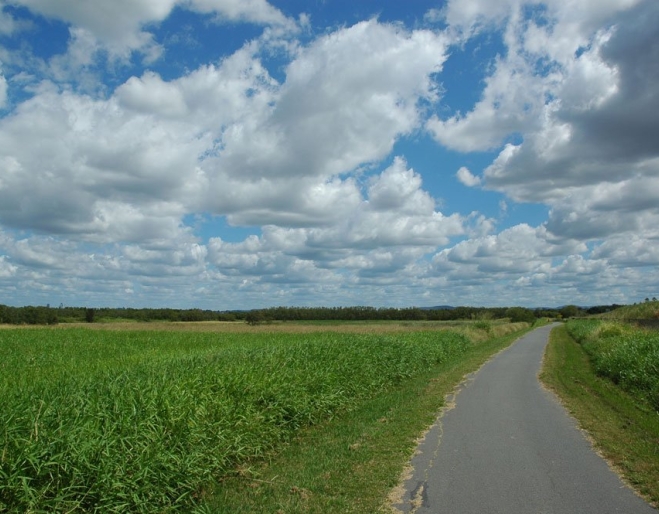 Visit parks, cafes and heritage listed buildings on this easy walking tour of Mitchelton in Brisbane's north. During the 1850s, the Mitchell Family were the first white settlers to purchase the land south of Kedron Brook which is now known as Mitchelton. Several wineries, orchards and farms were established in the area, as well as Chinese market gardens. Today, the suburb's tree lined streets are filled with Queenslander style homes, a monthly farmer's market and plenty of cafes to explore.
The walking tour begins at the top of town at St Matthews Anglican Church, one of the oldest churches in Brisbane. Colonial architect, Charles Tiffin designed the now heritage listed building in the Gothic style of Barford St Martens Church in Wiltshire, England. The bricks were made from local clay and the foundation brick was laid on September 23, 1867 by Queensland's first Governor, Sir George Bowen. 
Within the hill top church grounds, there is a contemplative Memorial Garden, which is open to the general public for quiet reflection. Spend some time visiting the adjacent graveyard, where many local pioneers were laid to rest, including the Nicholson Family who generously donated the land on which the church stands.
2. Blackwood Street
Follow Blackwood Street across the railway tracks to the north, until you reach Kedron Brook, Walk along the bikeway/path towards the right, looking out for several animal sculptures and mosaics designed and built by the local community. There is a small waterhole next to the track, which is a lovely spot to cool off the feet and watch out for kingfishers, turtles and other resident wildlife.
4. Teralba Park, Osbourne Road
Continue along the path, passing the old Mitchelton Pony Club and crossing over Osbourne Road at the traffic lights. Teralba means "tall trees" in the local Indigenous dialect, and many tall eucalyptus trees remain in this spacious parkland area. There is an outdoor exercise area on the right and a soccer field to the left.
If you have children, cross over the soccer field and up the hill to find the Teralba Park playground, which has a fun maze, sandpit and barbecue areas. At the children's playground there is also a memorial mosaic depicting a fire which swept through the area destroying many homes.
After a play at the park, retrace your steps, or wander through the back streets to finish the walk overlooking the city back at St Matthews Anglican Church.
By Lucy Hordern
Start/finish walk
35 Church St
Mitchelton
Map