West End South Brisbane
Walk Or Cycle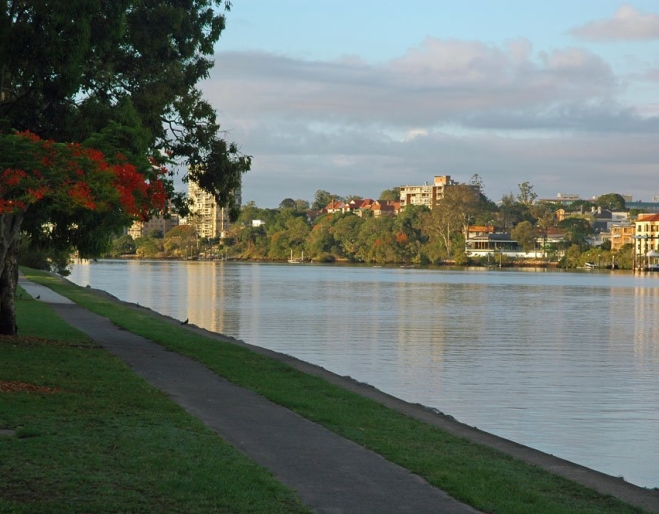 This walk/ride along the entire length of West End's river bank begins at Orleigh Park ferry terminal, (a short hike to a start-me-up from Alberto's Shot café). As this is a highly popular weekend spot for families small unpredictable obstacles may cross the paths or be cycling on them, so care is warranted here by weekend bike riders. Except for this section, which is graced by enormous fig trees, the majority of this 9km return route is somewhat exposed to the elements.
1. After the gracious beauty of Orleigh Park and the views of the retro 60's and 70's apartments at St Lucia on the other side, the path rounds the corner at the South Brisbane Sailing Club and the GPS Rowing Club. Roughly parallel to the latter, across the river at Toowong can be seen Middenbury House, one of Brisbane's oldest houses c1865, tucked away in front of the old abandoned ABC headquarters.
The path continues on its merry way past a batch of featureless commercial buildings until reaching the edge of Davies Park which was established in 1901 and as such is the South Brisbane area's oldest park. Here can be found an ornate 1912 cast iron gas stripping tower, used to remove tar and ammonia from raw coal gas, which today is the only one remaining in Australia.
On Saturdays Davies Park is a bustling hub of market stalls from the Davies Park Market, with a good array of ethnic foods to feast on and trees to take a break under. Or head up to Montague Rd and replenish at Plenty, a rusitic hub of locally grown goodness.From Davies Park continue along Riverside Drive until the Go Between Bridge and follow the signs to get around it. The last little sector is through Kurilpa Park, a pleasant green pocket under the William Jolly Bridge.
Finish with a drink or bite to eat at the Milk Factory Kitchen & Bar in a hertiage-listed corner hotel - located just before the William Jolly Bridge – before the return journey. Recommended as a reward before hitting Orleigh Park again is a quick detour off the river path to Ferry Road ( a block before the sailing Club) and at the intersection of Montague Rd is the Queensland Ballet. Turn left and on trhe corner of Raven St and Montague Rd is London Fields, a top English-style gastro pub.
2. For those who feel like continuing on, the possibilities are practically endless: take the Go Between Bridge and go via the Bicentennial Bike/Walkway on the other side to Toowong or head over the Kurilpa Bridge and into or under the CBD or continue around the front of GOMA and along South Bank to Kangaroo Point or the City Botanic Gardens
Map
Orleigh Park, West End, Queensland