The Rockket Room
Petrie Terrace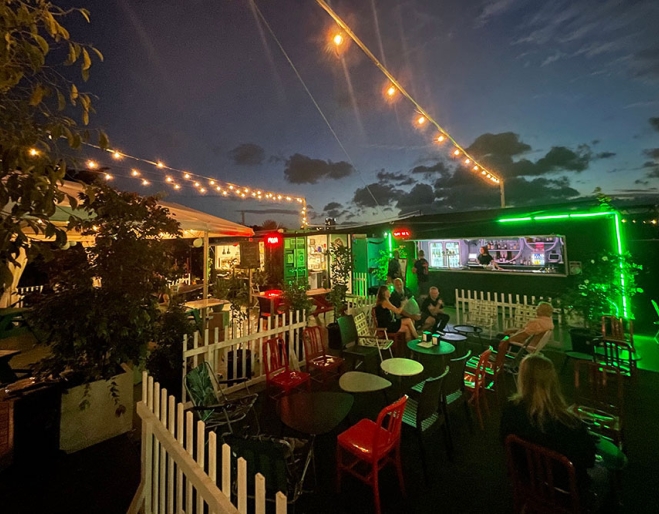 The Rockket Room is a quirky rooftop garden bar with a retro vibe, tucked away just off Caxton St in Petrie Terrace.
Part-beer garden, part-pizza bar, The Rockett Room makes for a cool laidback change from the hipster bars of the inner city.
A white picket fence divides the venue in two - on one one side is the shipping container bar and an astroturf garden with patio furniture and fold-out beach chairs.
And on the other side of the fence is a marquee with BBQ and dining tables and a shipping container pizzeria with David Bowie on the door. 
Pizzas are all under $20 and toppings include: chicken and spinach; proscuitto and olives; chill beef and jalapenos; salami and red onion; vego or margherita. Plus, there's garlic bread and a choice of salads - garden, Greek or parmesan and pear.
To one side is a vintage caravan, with a DJ spinning an eclectic mix of rock'n'roll and jazz and, from Thursday to Saturday nights, there's live music.
Good to know - Between 4-6pm is happy hour, with half price drinks, making this a great budget night out. 
Nice to know - This makes a great pre- or post-event spot for a drink and a bite to eat if you're heading to Suncorp Stadium, just a few minutes walk away.
The Rockett Room
2 Judge St
Petrie Terrace