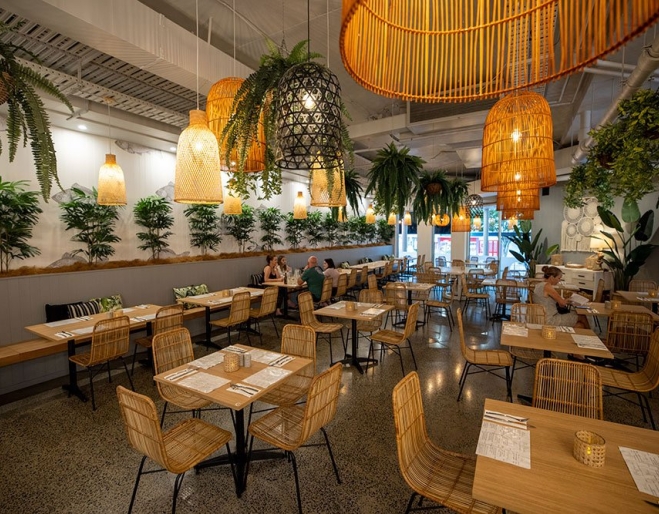 Mr Hibachi is a cool contemporary 2-storey establishment in Wynnum town centre, with an espresso bar on the street front and a tropical plant-adorned Pan Asian restaurant upstairs. 
The espresso bar is open for coffee and light baked treats in the mornings while the restaurant, a foodie's delight, is the go-to for some of the best lunch and dinner to be found anywhere on Brisbane's bayside.
The plant-filled dining  room has a tropical retro aesthetic, with macrame wall hangings, tatami woven light fittings, planter boxes along one wall and polished timber floors, with tea light candles on tables.
The concise menu offers starters such as seared beef tataki, soy garlic and truffle sauce, puffed rice, pickled radish and cress; Mr Hibachi salad roasted vegetables, mixed greens, purple tatsoi and shizo leaf; tempura soft shell crab bao, coriander mayo, shredded iceberg lettuce, pickled carrot and fresh cucumber or tempura chicken taco with crispy salw, sriracha mayo and fresh herbs.
Mains (which can be shared) range from light offerings such as a poke bowl or soba noodles with sesame dressing and choice of grilled veg, soft egg or grilled salmon.
Highly recommended are the chargrilled chicken thigh with Asian curry style sauce, mixed greens and rice and the Pork belly with yellow rock sugar caramel, Asian Greens, pickled chilli and grapefruit. And for a real treat there's charred Rib Eye Fillet, and wasabi butter with charred broccolini, maple syrup and sweet potato puree.
And for sweets there's a choice of mango parfait with palm sugar caramel, passionfruit and finger lime salad or dark chocolate mousse cake, lightly poached lychees in vanilla syrup and ice-cream.
Drinks-wise, there's a smattering of cocktails, including Mr Hibachi Iced Tea, Fremch martini, Cosmopolitan or Margarita; a small selection of local and international beers as well as Asahi on tap; basic, premium or top shelf spirits and a mostly Australian wine list along with Veuve Clicquot or GK Mumm Cordon Rouge NV by the bottle.
Good to know - Mr Hibachi is a sibling for downstairs tapas bar The Fat Duck. 
Mr Hibachi
3/89 Bay Tce
Wynnum
Licensed