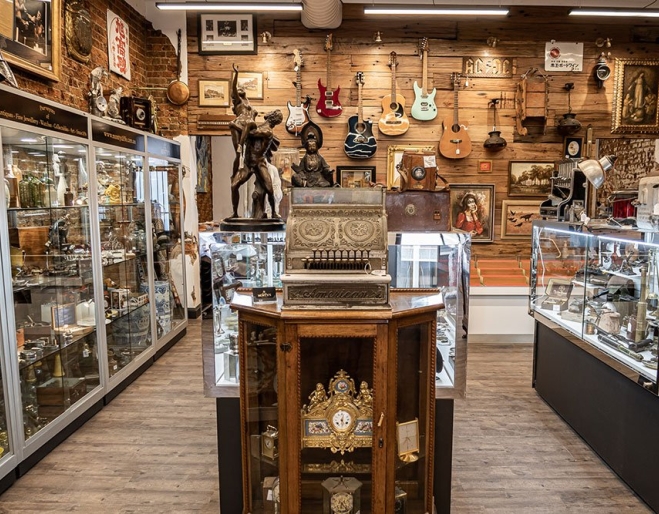 Brisbane's longtime treasure trove, Monty's have been Purveyors of Antiques, Fine Jewellery, Watches, Collectables & Art since 1856 and have occupied their heritage-listed shop in Fortitude Valley since 1968.
Located in the historic Old English, Scottish & Australia Bank Building in Wickham St, Monty's rich history dates all the way back to their creation in 1856, before settling in Brisbane in 1900, where they have been serving the community ever since.
With a catalogue of over 2500 unique items. Monty's has a huge range of pre-loved, vintage and antique jewellery, luxury and vintage watches, handbags and leather goods, paintings, statues, collectables, technology and music gear.
The interior of Monty's is like a museum, with exposed hand-made brick walls providing the perfect backdrop for the items on display and glass cabinets filled with beautiful jewellery, accessories and collectables.
Monty's also have an in-house jeweller offering a wide range of services including ring resizing, jewellery repairs, custom makes as well as upcycling old jewellery to create one of a kind pieces for sale.
They also authenticate handbags from all the big luxury goods brands like Louis Vuitton, Chanel, Gucci and Hermes and can service watches.
Good to know - Monty's also buy items, so people can visit the store to sell their jewellery, collectables, watches etc (anything that they sell, they also buy).
Monty's is a valued partner of Must Do Brisbane.com
Monty's - Purveyors of Antiques - Fine Jewellery - Watches - Collectables - Art - Since 1856
190 Wickham St 
Fortitude Valley
Mon- Fri 8.30-5
Sat 9.30-4
07 3252 4988