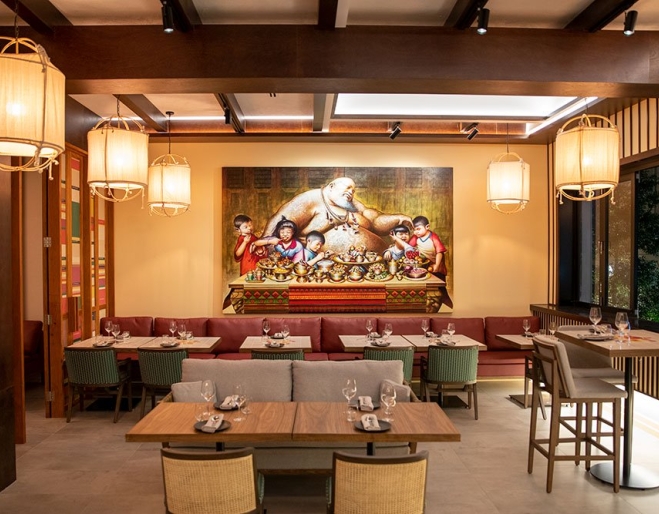 Jumbo Thai is an exquisite piece of Thailand hidden away upstairs in the city's historic Embassy Chambers - a must visit for the most outstanding Thai dining experience to be had in Brisbane.
The sense that this is something special starts with the entrance, a doorway off Elizabeth St into a marble foyer with a lift that whisks customers upstairs away from the streets of Brisbane then through a glass door and down a corridor into a stunning Thai oasis.
On the way are some dining nooks and crannies, a bustling open kitchen where Thai chefs are busy chopping herbs and prepping food (you can also grab a bite to eat here) and a glassed-off wine room before reaching the main splendid dining room and bar.
Here diners can take a seat in the main room with its striking Thai art, the side dining room (which can be separated by a sliding screen for functions) or along the window benches with views onto the street. There's also the option to sit up and enjoy a luscious Thai cocktail, beer or boutique wine at the bar before dining.
The food at Jumbo Thai is fine dining quality, with a creative menu unlike anything else to be found in Brisbane. Regional dishes from around Thailand are made from herbs and ingredients that are hard to find in Australia, all curry pastes are made from scratch on site and meats and seafoods sourced locally and sustainably.
Entrees include the highly recommended Signature butterfly pea flower steamed dumplings with sand crab, coriander & white pepper or locally grown betel leaf parcels of smoked trout, salted coconut caramel sauce & salmon roe. Other delectable options include house-made bao buns of soft shell crab, tangy ginger, lemon & chilli mayo  or house-made rice flour tacos with pulled pork, hand shredded coconut, fresh cucumber, red onions & chilli pickle.
Traditional Thai salads include the fiery Chiang Mai pork larb or shredded banana blossom, coconut milk poached organic chicken, local banana prawns and a soft boiled egg caramelised chilli jam & lime dressing (both a must try).
Larger dishes include 'Grill & Crispy' offerings such as char-grilled grass-fed Tasmanian 'Cape Grim' striploin marinated in a seasoned herb paste with in house tamarind, chilli, palm sugar & toasted rice powder dipping sauce; Curries and Tom Yum including the heavenly  Massaman Lamb-  lamb shank in coconut milk, hand-pounded Massaman curry paste, sweet potato, roasted peanuts, golden shallots; and Stir Fries Noodles and Rice, including Jumbo Pad Thai, Khao Soi and Thai Fried Rice.
And save room for 'The Sweet Stuff' with scrumptious delights such as lemongrass panna cotta, raspberry coulis, honeydew melon, local honeycomb or double-dipped banana fritters, toasted rice flakes, coconut, palm sugar with coconut ice cream.
Just as divine as the food are the Thai cocktails  - try the Samui Sunset (vodka, aperol, creme de peche, fresh orange & lime,passionfruit and orange bitters) or the Tom Yum South Side (kaffir lime infused gin, fresh lime, lemongrass gomme, holy basil, mint and absinthe rinse). Meanwhile there's a carefully curated drinks list of boutique wines, craft beers and premium spirits.
Nice to know - There are 3 banquet options available (min. 4 diners) , including one vegan banquet. The majority of dishes at Jumbo Thai are gluten-free.
Need to know - Jumbo Thai is perfect for any occasion - date nights, corporate, birthday gatherings etc. Open every day, it is one of the few restaurants in Brisbane whether you can dine late on a Sunday night.
See our full curated list of restaurants in Brisbane CBD HERE
Jumbo Thai
Level 1
Embassy Chambers
214 Elizabeth St
Brisbane CBD
Licensed
3477 6464