O'Reilly's Rainforest Retreat
Lamington National Park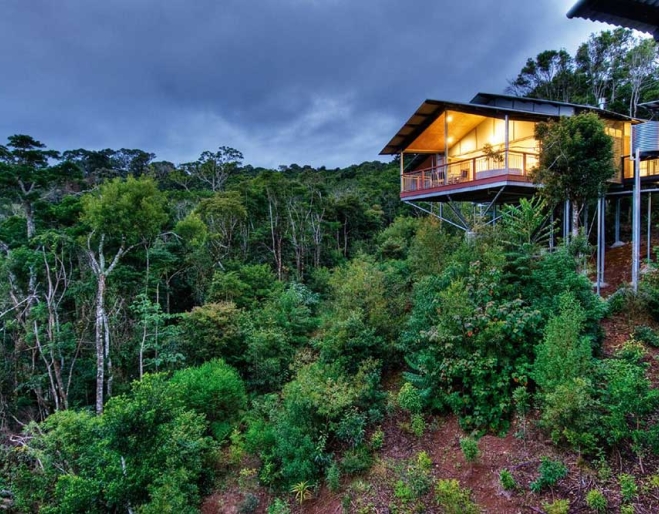 O'Reilly's Rainforest Retreat is the perfect place for the entire family to escape the rat race, experience nature together and explore the 160 kms of walking tracks, abundant wildlife, and over 500 waterfalls in the area. 
After being closed due to COVID-19 restrictions, O'Reilly's is reopening to guests and now taking reservations for visits starting June 12th onwards.*
Located within the Green Mountains section of World Heritage Listed Lamington National Park makes the resort an ideal base for all kinds of outdoor adventures, and it's pretty hard to beat sleeping on the edge of a mountain plateau surrounded by 20,000 hectares of sub-tropical rainforest. 
The highlight for most visitors to O'Reilly's is feeding the resident King Parrots, Crimson Rosellas and the famous Regent Bowerbirds, which sometimes even land on people's heads. The sixteen-metre high Tree Top Walk is another unique way to explore the rainforest canopy, involving nine suspension bridges and an optional steep ladder climb with unrivalled views over Lost World Valley from the top. 
Throughout the day, there are many outdoor activities to choose from, beginning with a guided Early Morning Bird Walk, a Segway Safari to Moran's Falls, an afternoon zipping along the Flying Fox and an evening tour to Glow Worm Grotto.
For those wishing to stay overnight at O'Reilly's Rainforest Retreat, there are 66 retreat style rooms and 48 self-contained eco-villas to choose from, all of which have impeccable views across to McPherson Range in the distance. 
The classic alpine dining room is the hub of the family run resort and a great space to catch up on the day's activities. Sitting by the log fire in The Rainforest Bar is a highly recommended way to end the day, watching the sun sink away to the west with a glass of O'Reilly's wine in hand.
Many short and long walking tracks surround O'Reilly's Rainforest Retreat including Booyong Walk (800 metres return), Moran's Falls Track (4.6 kms return) and the stunning Elabana Falls Track (7.6 kms return). The Border Track (21.4 kms one way) is another excellent overnight walk connecting Binna Burra with O'Reilly's. Don't forget, after a long day on the trails there is always the option for a little pampering at The Lost World Spa.
Nice to know: At around 1000 metres above sea level, Lamington National Park is typically five degrees cooler than Brisbane, so be sure to pack some warmer outdoor gear and a torch for evening activities. Be sure to pay a visit to Canungra Vineyard which makes for a great side trip to pick up some wine to take home.
*Note that some of the activities/group amenities may not be operational due to ongoing COVID-19 restrictions.
O'Reilly's Rainforest Retreat
Lamington National Park Rd,
via Canungra
1800 688 722
Map