The Very Hungry Caterpillar Show
QUT Gardens Theatre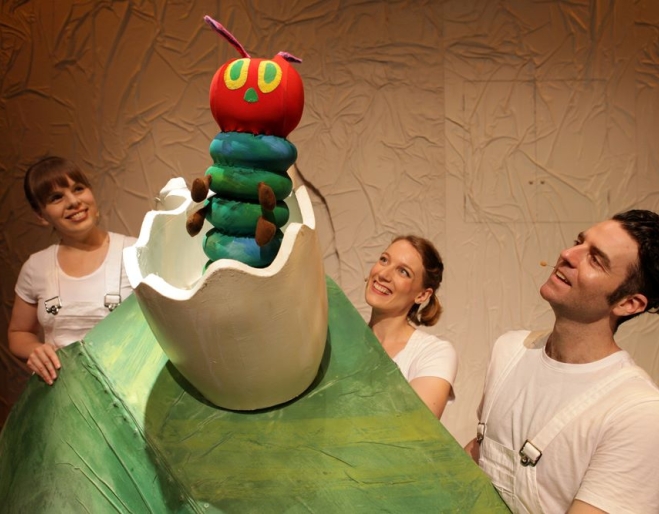 The Very Hungry Caterpillar Show, based on the best-selling children's book by Eric Carle, returns to Brisbane this winter school holiday following sold-out performances, playing at QUT Gardens Theatre from Saturday, September 25 to Tuesday, September 28.
One of the most-read and famous children's stories of all time, The Very Hungry Caterpillar emerges off the page in a masterful theatrical experience for children 18 months+ and their adults.
Created by Jonathan Rockefeller, this magical production features a menagerie of more than 75 puppets plus an Australian cast who bring 4 of Eric Carle's iconic stories to life on stage - Brown Bear, Brown Bear, What Do You See?, Ten Little Rubber Ducks, The Very Busy Spider and of course, the star of the show - "and – pop! – out of the egg came a tiny and very hungry caterpillar."
A delight for those just discovering Carle's stories, and for the generations who grew up with his beloved books, this enchanting Australian-made show transports audiences into a pop-up-like version of Carle's world that will excite, educate and entertain the whole family!
Nice to know - The Very Hungry Caterpillar Show is presented by the same talented team behind the popular Australian tours of The Gruffalo, Spot, and The 13, 26, 52, 78 & 91-Storey Treehouses.
Need to know - Tickets: A Reserve $39; A Reserve Group 6+ $33; B Reserve $29; Vacation Care 20+ $22 (1 adult free per 20 attendees). Children 12 months and under are admitted free as long as they are on a parent/carer's lap.
Show duration is 50 minutes with no interval.
Photos: 2021 Australian Cast, © James Taggart
CDP Kids is a valued partner of Must Do Brisbane.com
*The show has been rescheduled from Jul 31-Aug 2 due to Covid border restrictions.
The Very Hungry Caterpillar Show
QUT Gardens Theatre
2 George St
Brisbane
Sep 25-28, 2021
$29-$39 + book fee
Vacation Care 20+ $22.00
3138 4455