The Great & Grand Rumpus
State Library of Queensland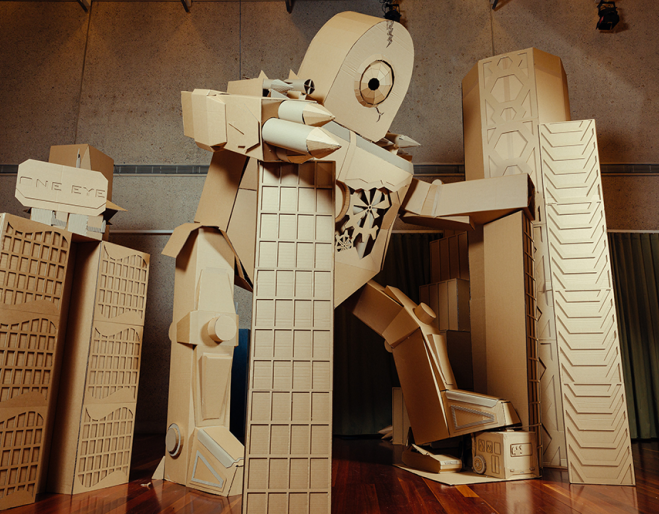 This summer step into a wild world of wonder, wackiness and whimsy for all ages when you visit the The Great & Grand Rumpus at State Library of Queensland, from Dec 11 - Apr 18, 2022.
Imagine a world where one-eyed creatures can shoot laser beams and cows are taller than giraffes - in the land of imagined things at The Great & Grand Rumpus, anything is possible!
Explore large cardboard sculptures scaling five meters high and watch as they are brought to life by interactive digital projections.
Get hands on and craft your own mythical creation at The Great & Grand Rumpus. From koi lanterns to board games and more, the land of the rumpus is a haven for makers, creators and artists alike.    
Allow your inner child to experience the limitless imagination of make-believe places and see how over 1000 innovative storytellers just like you have crafted and sculpted mythical worlds and creatures based on ideas workshopped by kids over the last 18 months.
In a nutshell - The Great & Grand Rumpus brings the nonsensical to life, the unreal to reality and LOUDNESS to the Library!  
Images 1, 2 and 4. Behind the scenes of The Great & Grand Rumpus, 2021, Photos by Josef Ruckli
Image 3. Imagined by: One Eye, Mohammad, aged 11 years, Woodridge State School.
State Library of Queensland is a valued partner of Must Do Brisbane.com
The Great & Grand Rumpus
State Library of Queensland
Stanley Place
South Brisbane
Dec 11 - Apr 18, 2022
Free