BRISBANE ART DESIGN (BAD) 2021
Brisbane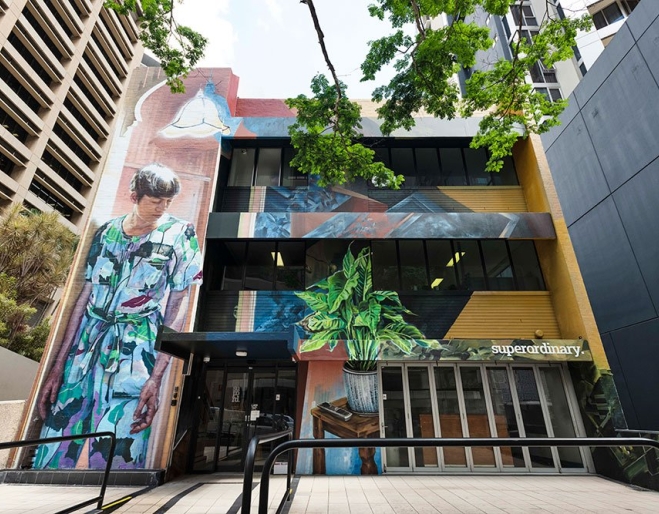 BRISBANE ART DESIGN (BAD) 2021 is where art, design and the city of Brisbane collide for a fabulous month of dynamic exhibitions, open studios, outdoor interventions, talks, tours, workshops and more, led by Museum of Brisbane.
Commencing Friday 7 May through until Sunday 30 May, 2021, Brisbane's city, fringe areas and suburbs will be activated across four jam-packed weekends featuring more than 60 venues and shining a spotlight on the best of Brisbane's Art and Design.
With the lens fixed firmly on four distinct parts of Brisbane (City, Valley, Northside, Southside), BAD 2021 unpacks what makes each BAD neighbourhood unique with tours, public art events, contemporary art exhibitions, performances, projections and open studios across the fashion, photography, local artisans, furniture, street art and commercial arts sectors. 
Weekend One - 7-9 May - City
Audiences are invited to explore the inner city, starting the journey on the ground level of the CBD's Brisbane Quarter where emerging talent Kirralee Robinson will be staging a large-scale kinetic installation Move Together, before a short stroll to the iconic City Hall to witness MoB's live improvisational drawing environment RMXTV. Authored by ex-Brisbane, now LA-Based creative Steve Alexander, this broadcast workshop invites artists to respond to a series of prompts - testing their creative agility.
Wander down the iconic Edward Street to explore two of the exhibits that form part of the city-wide Outdoor Gallery's Indigenous Art Program then on to see exhibitions by Amy Sargeant in Contra Store and BSAF's Within these Walls exhibition at Superordinary. There is also so much to see at QUT with the Art Museum and William Robinson Gallery, a highlight being a performative debate extending the conversation around the Art Museum's On Earth exhibition
And if that's not enough you can stay on beyond dusk to immerse yourself in the wonder of Botanica in the City Botanic Gardens where, every night from 7 – 16 May, 2021, Botanica will transform the Gardens through a series of contemporary installations and projections. Now in its third year, Botanica is emerging as one of Australia's leading public art events.
Weekend Two - 14-16 May - Fortitude Valley
Commencing on Friday evening, visit QUT Kelvin Grove to explore the breath of their creative output on display before kicking off Saturday in the Valley as it is affectionately known to locals. Home to so many of Brisbane's leading galleries and creative precincts, enjoy a full day into night of fashion, performance and projections.
Radical Localism on King Street, co-designed by artisan and Practice Studio, in collaboration with QUT Fashion, and supported by Lend Lease, aims to highlight Brisbane's local independent fashion community. Bringing together a growing cohort of skilled makers and designers in one very large open-studio setting, audiences are invited to browse view their latest wares, and join a broader conversation about the implications and future of an industry in the era of fast and slow fashion.
Moving on to contemporary art with exhibitions in Adderton House, the Institute of Modern Art, Jan Murphy Gallery, Edwina Corlette, Outerspace and Mitchell Fine Art the day is not over, with three outdoor exhibitions commissioned just for BAD. 
Weekend Three - 21-23 May -

Northside
Get some sawdust in your hair, clay under your nails and chocolate in your belly as you head North to explore the offerings of Teneriffe, Newstead and Albion. Luxxboxx plays host to a Friday afternoon and evening of design with an in-depth look back at the legacy of Queensland's own Quench Collective where, 20 years on from their world-wide debut the boys are back home to enthuse and empower a new generation of local designers.
On Saturday, it's time to move along the river and take in the Brisbane Powerhouse's MELT photographic exhibition, an open studio at the Ferryman's Hut, Jan Manton Gallery, and BIB'N'Brace Collective. Head further North from the Gasworks Precinct to enjoy the ceramic skills on display at Mas & Mieke, photographic works at Maud Street Photo Gallery, and First Nations practitioners at the iconic Fireworks Gallery.
Enjoy a very special Saturday afternoon planned with open-studios by Stephen Hart and Michael Eather plus two art-meets-fashion displays with the wonderful Ivy Nui at Newstead Studios. Meanwhile Urban Art Project's public artworks can be found in every corner of the globe, but on Saturday night, they share some home truths with a collection of Brisbane's most successful creatives sharing their least successful moments in a tell-all session of failures, fears and beers.
On Sunday, you can explore an emerging pocket of makers and bakers in Albion. Whittle away an hour on Pedder Street in the uniquely green Botanick, with wood-carver Carol Russell, fine leather artisans Blue and Grae and pop-into the creative co-working space Colab 4010. Take in the tastes of Amy Sargeantson Chocolate and pop next door to Revival Art and Design. Head into Neighbourhood for a coffee and conversation with the Sunday Drawing Club, and fuel up at The Black Market Albion before you enjoy an afternoon of Street Art with live mural painting and exhibition at Mayne Line Gallery.
Weekend Four - 28-30 May - Sou

thside
The final weekend cuts two paths through the creative juggernaut that is the Southside. Take an old-school Friday night gallery crawl along Montague Road, West End, from Onespace Gallery through to Metro Arts in West Village.
Saturday takes in exhibitions and conversations with Five Mile Radius on Gladstone Road, Griffith University Art Museum, Queensland College of Art, TAFE Queensland, and the State Library Queensland all hosting. Then wrap up the evening with music, projections and performances by all-Indigenous artists in a block party at Fish Lane's new Town Square.
Alongside these programmed weekends, there are brilliant exhibitions and events in suburban locations, BAD in the 'Burbs includes Woolloongabba Art Gallery, Stable Gallery, Wreckers, Dead Puppet Society, Derlot Group, UQ Art Museum, Brisbane Institute of Art, Side Gallery in Red Hill, Grey Hand Press and Perides Art Foundry to name but a few. 
BAD is an initiative of Museum of Brisbane and proudly supported by Liquid Interactive, Arts Queensland, Brisbane Airport Corporation.
Museum of Brisbane is a valued partner of Must Do Brisbane.com
BAD Design
Various locations
Brisbane
May 7-30, 2021