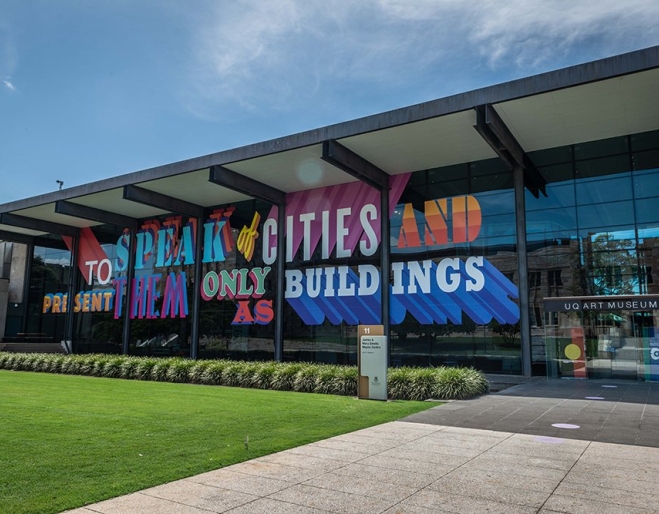 Celebrate the launch of UQ Art Museum's 2020 creative program, Union, on Friday, February 28 with new artworks, exhibitions, projects, artists, creative thinkers, fantastic food and drinks, and a live DJ.
The first wave of the Union program features a major exhibition, Centre of the Centre, by Paris-based, Australian artist Mel O'Callaghan, and an iconoclastic video work, SMASH IT (2018), by Brook Andrew, that challenges the usefulness of Western laws and structures for Indigenous Australians.
Brisbane artist Sam Cranstoun's large-scale, text-based artwork, To Speak of Cities, will span the façade of UQ Art Museum, while inside visitors will find a collection of new works by the artist.
Attendees will also be treated to a live performance of Mel O'Callaghan's Respire, Respire. Using trance-induction techniques, performers also engage in cyclical breathing, potentially triggering altered states of consciousness including ecstasy.
Details of the second wave of Union programming at UQ Art Museum will be released later in the year, including a Brisbane-based Aboriginal artist collective called proppaNOW, a group exhibition of Australian and international artists entitled Conflict in My Outlook: We Met Online that explores how the Internet shapes social relations and ideas, and a student-mentored collection-based show, Music of Spheres, which explores the vibrational hum of the cosmos as an enduring source of influence for human cultures.
Check out UQ Art Museum's Facebook page for more info on events, expert and artist talks, the Centre of the Centre publication launch and much more.
Need to know - The Union opening celebration is a free event but registration is required. Register now. 18+ ID is required to consume alcohol.
Nice to know - UQ Art Museum is committed to providing plant-based refreshments during its events.
Image credits top to bottom: 
Sam Cranstoun, To Speak of Cities (2020), vinyl lettering, UQ Art Museum Window Commission, supported by Mrs Jane Tynan and Mr Michael Tynan, 2020. Courtesy of the artist and Milani Gallery, Brisbane. Photo: Simon Woods
Mel O'Callaghan, Centre of the Centre, 2019, installation view, Artspace, Sydney, courtesy the artist and Kronenberg Mais Wright, Sydney; Galerie Allen, Paris; Belo-Galsterer, Lisbon. Photo: Zan Wimberley
Mel O'Callaghan, Centre of the Centre, 2019, installation view, Artspace, Sydney, courtesy the artist and Kronenberg Mais Wright, Sydney; Galerie Allen, Paris; Belo-Galsterer, Lisbon. Photo: Zan Wimberley    
UQ Art Museum is a valued partner of Must Do Brisbane.com
UQ Art Museum
University of Queensland
The James and Mary Emelia Mayne Centre (Building 11)
University Dr
St Lucia
Feb 28 from 6pm
Free