Dandys Rooftop
South Brisbane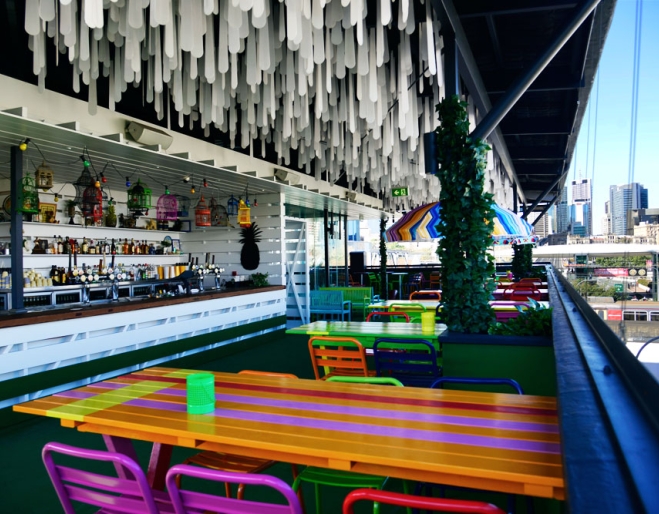 THE FOX HOTEL IS CURRENTLY CLOSED UNTIL FURTHER NOTICE.
Amongst the many charms of the art deco Fox Hotel is Dandys Rooftop, a quirky vintage terrace bar that is decked out with colourful bird cages and themed on a 1970s tennis club. On balmy summer nights it makes a splendid place to kick back on the candy coloured patio furniture and take in the vista of city lights with a craft beer, wine or Dandy's Ginger Beer (their signature slushie blend of fresh pressed ginger, Gosling's rum, citrus and a secret ale spice mix) in hand.
Other cocktails here are named after greats of the tennis circuit such as the Anna Kournikova - marshmallow infused vanilla vodka with manuka honey water, coconut and lemon butter, the Pat Cash Smash – cherry bourbon, lemon juice, bitters and ginger beer and all guaranteed to cause a grand slam.
Food at Dandys Rooftop is derived from a charcoal BBQ menu of dishes that keep on smokin' and are designed to share.
Dandys Rooftop
Fox Hotel
71-73 Melbourne St
South Brisbane
Fri 4-late
Sat-Sun 2-late
Map
71 Melbourne St South Brisbane