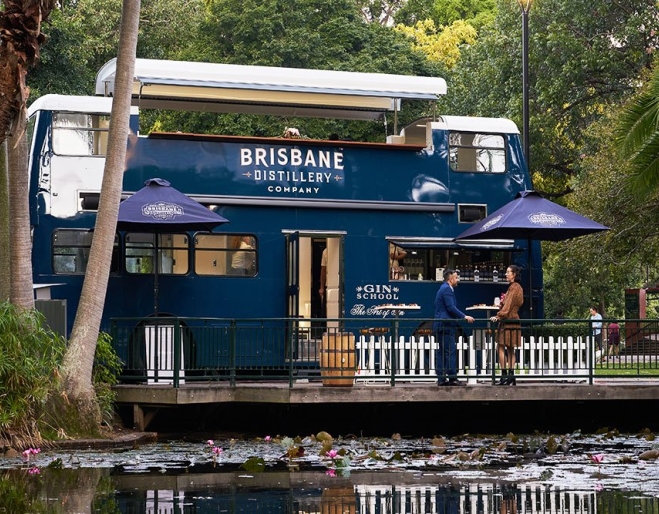 THE GIN BUS IS CURRENTLY FOR SALE AND NO LONGER OPERATING AT THE MARKETS.
A double decker gin bus, The True Spirit, pops up at Riverside at the Gardens Markets, by the duck pond in City Botanic Gardens on Sundays.
Brought to you by popular West End distillers Brisbane Distillery, the gin bus is a 'food truck' style vehicle with a lounge bar inside where you can taste gin and drink gin-based cocktails.
The True Spirit is a rebuilt 1974 Atlantean Double Decker Bus with fully self-contained cocktail bar and tastings event space which seats 25 upstairs and has a full cocktail bar and tastings room downstairs.
They can also cater for up to 150 with outdoor seating and tables. While they can't drive people around in it, the bus can be parked almost anywhere, from markets to events and parties.
The True Spirit will be available to book for any occasion under the sun. Be a markets event, a promotional activation, a wedding or even a birthday - The True Spirit can travel to you or your desired location, making it the perfect space to make your event truly unique.
The Gin Bus is popular at the Sunday markets, and upstairs is where visitors can enjoy some gin while taking in a glorious view over the markets and gardens.
Downstairs they offer tastings with their award-winning Game of Eucalyptus Gin, Queensland Dry Gin as well as their Brown Snake Rhum.
Images: Courtesy of Brisbane Distillery
The Gin Bus
Various locations
 0419 779 239