Night Feast
Brisbane Powerhouse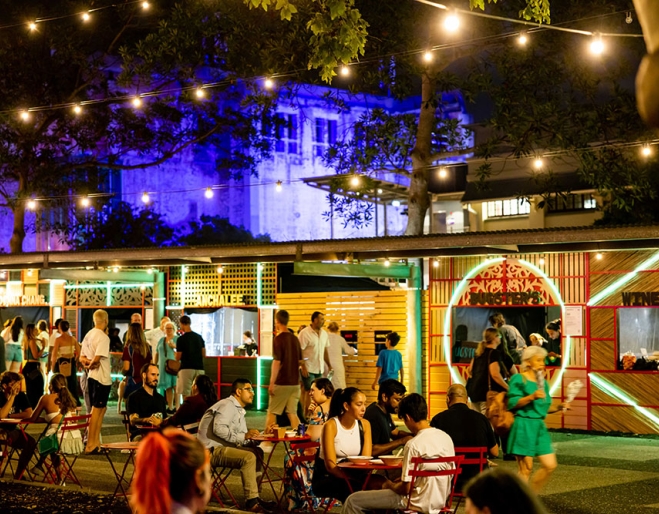 THIS EVENT IS NOW IN THE PAST. FOR MORE GREAT THINGS TO DO AND SEE IN AND AROUND BRISBANE, PLEASE HEAD TO OUR WHAT'S ON PAGE HERE
Brisbane's highly-anticipated creative and culinary spectacular Night Feast returns with a vibrant spring feasting menu of food, immersive art, music and a brand new activation at its stunning riverside location throughout the Brisbane Powerhouse precinct from October 4-29, 2023.
Following its inaugural success last autumn, Night Feast's spring edition will ignite the senses once again, delivering incredible tastes from Brisbane's leading chefs paired with the arrival of other-worldly creatures, electrifying live music and roaming performances in a magical festive setting against the backdrop of New Farm Park and Brisbane Powerhouse.
Autumn crowd favourites return, including e'cco bistro, Donna Chang, Gerard's Bistro, Dalton Catering, Saison Salumi, LouisB, Lek's Thai, Mary Mae's, Hoy Pinoy, Wonderbao, Anchelee and Bugsters. They're joined by new spring additions ESSA, NOTA, Southside, Bar Alto, The Green, MAYA, Nosferatu Gin & Dessert Bar and La Mano.
Night Feast's spring edition welcomes a spectacular new addition: Sapporo Izakaya by Taro, a hand-crafted traditional Japanese restaurant. Sapporo Ambassador and Beer Sensei, Shinichiro Shimo, will be presenting a selection of delightful brews, expertly paired with a lavish menu by renowned Australian chef, Taro Akimoto (Taro's Ramen).
Complementing the extraordinary culinary lineup is an enchanting program of free events and art that will take you on a journey through performance, visual spectacle, and auditory delight.
Award-winning interdisciplinary artist, Bridie Hooper, presents a captivating work, For Whom the Bell Tolls, blending the virtuosity of circus with the bell's sonic wonder. Inhabiting all corners of the Brisbane Powerhouse precinct is Multitudes, a series of ten Illuminated, multi-limbed giants from Australian artists Tin and Ed.
The Huxleys' surreal serenade wanders through the feast, casting a visual assault of glamour and absurdity, inviting audiences into a dream state of colour, sparkle, and androgynous freedom.
Adding to the Night Feast ambience are the rhythmic beats of QUIVR DJs keeping the energy alive throughout the event, plus more live music performers to be announced in the coming weeks. The American Express Garden Lounge also returns, providing an oasis for visitors to enjoy a sensory experience in serenity and style.
Need to know -  Brisbane City Council will provide free public buses (Night Feast Express) to and from City Hall to New Farm Park via Central Station. Night Feast is a seasonal bi-annual event, held in autumn and spring.
Brisbane Powerhouse is a valued partner of Must Do Brisbane.com
Night Feast
Brisbane Powerhouse
119 Lamington St
New Farm
Oct 4-29, 2023
Wed- Fri 4.30-9.30pm
Sat-Sun 3-9pm