Toowoomba Carnival of Flowers 2023
Toowoomba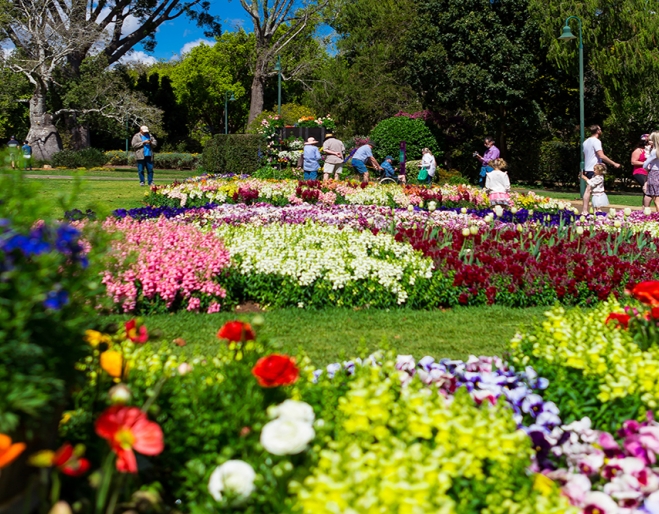 THIS EVENT IS NOW IN THE PAST. FOR MORE GREAT THINGS TO DO AND SEE IN AND AROUND BRISBANE, PLEASE HEAD TO OUR WHAT'S ON PAGE HERE
Toowoomba Carnival of Flowers returns to the 'Garden City' in spring for 30 days of flowers, flavours and fun, creating a spectacular canvas of colour across Toowoomba's major parks and public spaces from September 1-30, 2023. 
September has never looked, smelt, sounded or tasted so good, with a joyous program of petals, flavours, sounds and sights!
Headlining the month-long celebration are more than 190,000 flowers in full bloom across Toowoomba's beautiful parks and public spaces, while here are 10 highlights not to be missed:
The famous three-day Festival of Food and Wine will be held from September 8 to 10 in Queens Park, showcasing the best in regional produce and an incredible line-up of epic Australian music including Jon Stevens, Eurogliders, Hoodoo Gurus, Sneaky Sound System and Budjerah live  ...more
The Grand Central Floral Parade is the event that stops the city, with thousands of families lining the streets to watch the kaleidoscope of colour. Held on Saturday, September 16, the Parade will commence at the earlier time of 10am, allowing crowds to enjoy a full day of sightseeing, shopping and...more  
Queens Park - Botanic Gardens feature floral displays 
Spread across 25 hectares, Queens Park is something to behold, with bright flower beds, large canopies of stately trees and acres of expansive green lawns, plus two playgrounds to delight the kids and an off-leash area that keeps the local dogs very happy. Take a stroll from Sep 1-30 and enjoy the splendid floral displays... more
Laurel Bank Park feature floral displays 
One of Toowoomba's premier parks, Laurel Bank Park is a majestic oasis close to the heart of town. Featuring manicured gardens, mature trees, children's play equipment, barbecue and picnic areas and two croquet lawns this is a must-see destination during Carnival, open daily from Sep 1-30... more
Heritage Bank Parkland Entertainment  
Every weekend is blooming with Parkland Entertainment! Pack a picnic and bring the family along to musical delights and activities amongst the flower beds. Throughout September Queens Park will come alive with music, entertainment and blooms, with both  day and twilight sessions.... more
Celebrate Toowoomba Carnival of Flowers' 50th anniversary with a visit to five beautiful, well-established private home gardens which will be open for your viewing pleasure from Sep 15-24. Not only will you get to see exquisite plants, trees and design features, you'll also be supporting a good cause, with all proceeds from this event are distributed to five charities of the gardeners' choice.... more
Four of Toowoomba's best bars and pubs are on the itinerary of this progressive foodie's Sunday lunch or dinner tour. Start with a sumptuous antipasto board at Muller Bros rooftop bar, followed by craft beers and delicious tasting boards at The Brewhouse, then settle in for mains at Tatts, one of Toowoomba's oldest pubs, before finishing your tour with a heavenly dessert at The Rock .. more
The Chronicle Garden Competition
The Garden City is home to thousands of passionate gardeners who work year-round transforming their private gardens into stunning floral showpieces. The Chronicle Garden Competition offers visitors the opportunity to visit the beautiful gardens that have been entered, from Sep 15-17 and Sep 22-24......more
Get ready to be mesmerised by the annual Ikebana display from September 16-24 at the Toowoomba Regional Art Gallery! This traditional Japanese art form uses fresh and dried flowers to create spectacular sculptures that are sure to captivate you, along with the rest of the displays in this fantastic gallery.... more
But that's not all. Cinema Under the Stars also returns to Middle Ridge Park, along with Sideshow Alley in Queens Park, the popular Petals and Pups, Teddy Bear's Picnic and so much more!
Toowoomba Carnival of Flowers is a valued partner of Must Do Brisbane.com
Toowoomba Carnival of Flowers
Toowoomba
Sep 1-30, 2023