French Kiss Pastry
Online Dessert & Cheese shop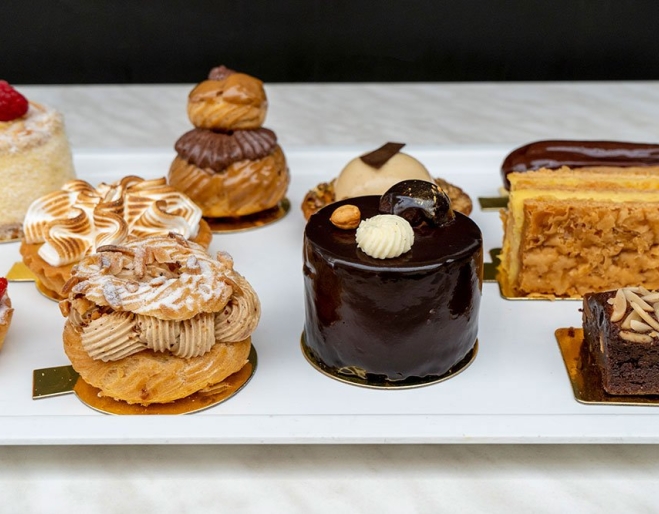 French Kiss Pastry is a unique, online dessert and cheese shop, delivering artisan French desserts and cheeses to your door* or for pick-up at their Fortitude Valley hole-in-the-wall. 
The bespoke desserts are freshly baked daily by their esteemed French pastry chef, Victor Bedoit, using authentic ingredients, and are better than you would find at most fine dining establishments in Brisbane. These heavenly, one-serve desserts are ideal for one to two people.
Perfect for sharing with your loved one after dinner at home or for a late night indulgence, desserts include Caramello Salt Tart (sweet biscuit dough, gooey salty caramel, rich dulcet mousse & crunchy pistachio & macaron crumble.) Sweet Tang Lemon Pie (meringue-topped lemon custard-filled biscuit butter cup) and the decadent Chocolate Bliss Cake (crunchy hazelnut and chocolate dacquoise, dark valhrona chocolate ganache, smooth milk chocolate cremeux and delicate chocolate mousse).
All of the cheeses are imported from France, with the most popular cheese the Fromager D'Affinois and Fromager D'Affinois with truffle from Fromagerie Guilloteau. These cheeses all have a mild, buttery flavour and are creamier than a triple-brie as it uses an ultra-filtration technique only found in France. There are also French cheese platters, perfect for an at-home wine and cheese night or for that late night TV snack.
French Kiss Pastry is located in the valley in a secret hidden 'hole in the wall shop shared with NY York Slice - pick up your orders here or have them delivered straight to your front door*'.
Need to know - All orders are paid through their preferred online platform and can by picked up at store or delivered to your door via the button below (SAVE 10% using the FKPVIP promo code) or alternatively via UberEats, Deliveroo and Doordash & EASI.
Good to know - Keep an eye out on their Instagram and Facebook pages for their latest dessert and cheese specials.
*This service is only available in surrounding suburbs.
French Kiss Pastry is a valued partner of Must Do Brisbane.com
French Kiss Pastry at
New York Slice Pizzeria
U201 McWhirters retail
247 Wickham St
Fortitude Valley