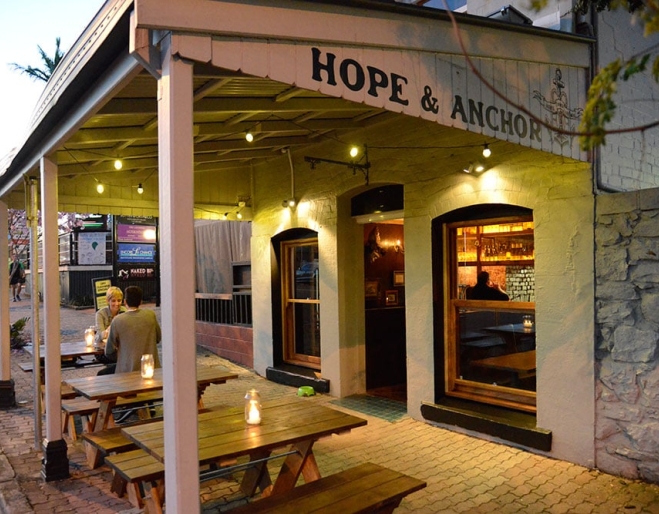 Hope & Anchor is Paddington's very own English-style neighbourhood pub that has made its home in a heritage-listed 19th century bakery.
Hope & Anchor is also arguably one of Brisbane's most atmospheric bars, especially by night when its golden lights beckon passers-by through the historic sash windows, outside tables flicker invitingly with candlelight and inside the beautiful exposed sandstock walls ooze ambience.
Taking inspiration from traditional English pubs, which are local community hubs for anyone, Hope & Anchor brings that vibe to Paddington, as the place to drop in for a quick 'pint', meet up with friends or enjoy some tasty pub food or even a meal. 
Punters can take a seat in the attached courtyard, outside, at the bar or upstairs in wood-panelled leather booths and partake in a tap, bottled or tinnie beer, glass of wine (including house wine), cocktail, spirits and some delicious bar snacks or a light gastropub style meal.
Décor is in keeping with the character English pub feel, with the odd bit of taxidermy on the wall, old sea-faring and black and white photos, flying ducks and collectibles.
Beer at Hope & Anchor includes 4 craft beers (Including Ginger Beer) on tap and Bottles and Tins, in true maritime fashion, come from a microbrewery in just about every port: Young Henrys, Green Beacon (Brisbane), Balter XPA (Mick Fanning's Currumbin microbrewery), Cascade (Hobart), Little Creatures (Fremantle, WA), Pirate Life IPA (SA) and 4 Pines (Sydney).
Wine drinkers will find plenty to like, starting with glasses of House Red or White for just $6 and taking in a range of some 40 wines (sparkling, pink/orange, white and red), with a decent selection available by the glass or bottle.
There's also a list of Classic Cocktails, including Caprioska, Espresso Martini, Margarita, Mojito, Daiquiri, Old-Fashioned and Negroni. Four specially created house cocktails.
When it comes to eats, what Hope & Anchor offers is simple yet first class. Bar Nibbles include British Classics like Beef Jerky and Potato Chips along with House-Spiced Nuts, while the English theme continues with the Sandwiches, which include a Chip Butty (with black garlic mayo and house-made tomato sauce) and Corner Beef with Hot English Mustard.
Snacks and Small Bites include deliciousness like Steak Tartare, Crisp Pork Belly, Mussels in White Wine with bread along with a touch of retro – Devils on Horseback and Panko Crumbed Fish Fingers.
Those after a meal can avail themselves with something from the 'Knife, Fork, Spoon' section of the menu with dishes such as Peppercorn Minute Steak, Baby Chicken with truffled sausage gravy and Dutch cream potato mash, Sautee Gnocchi or the highly recommended Ocean Trout with celeriac remoulade, fried artichoke and walnut salsa, with Sides including Cauliflower Gratin or Shoe String Fries.
And to finish there's two desserts to choose from – Chocolate Mousse with Malted Whipped Cream or Drunk Orange Cake Marscapone.
The menu may have changed since our visit.
The Hope & Anchor
267 Given Tce
Paddington
Map