The Laneway Green
Springwood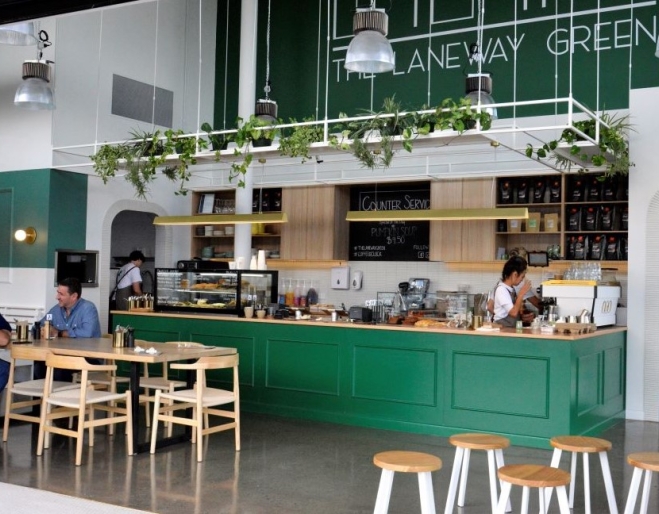 The Laneway Green in Springwood is an absolute gem of a foodie cafe inspired by the laneway cafes of Melbourne.
Located in the recently renovated Chatswood Central shopping centre, The Laneway Green is a stunning light-filled space with high ceilings, lots of greenery and beautiful blonde timber furniture; with additional dog-friendly dining provided outside.   
The all-day, paleo-inspired menu has something for everyone, including vegetarian, vegan, gluten-free, dairy-free and refined sugar-free fare. Delicious breakfast dishes include avocado bruschetta with chunky, smashed avo on sourdough served with blistered balsamic tomatoes, basil and Persian feta, almond and coconut pancake stack served with vanilla and blueberry chia jam, fresh berries, coconut ice-cream and Canadian maple syrup, and eggs benny - two free-range poached eggs on a buttery croissant with smoked ham or bacon, and house made hollandaise topped with a lightly dressed salad and micro herbs.
A must-try is the highly recommended rosti - beetroot, sweet potato and zucchini rosti with avocado, goats cheese, free range poached egg, lightly dressed salad and smoked salmon (optional). 
Lunch options range from slow-cooked pulled pork burgers with crispy, house made slaw on toasted brioche buns to nourishing salads such as macadamia crusted chicken, raw pad thai and Green Goddess - a bowl of fresh greens, quinoa, legumes, avocado, hummus and smoked salmon with green goddess dressing. 
The cafe is child friendly with a kids menu consisting of mini meals: bacon and eggs on toast, almond and coconut pancake, and healthy chicken nuggets served with a small side salad and sweet potato chips.
Grab and go options include croissants, sandwiches, wraps, bagels and fresh salads. In addition, there's a selection of sweets on hand including gluten-free, dairy-free raw treats like caramel slice and strawberry cheesecake. 
Coffee on pour is roasted locally by Bellissimo Coffee, served along with tea, milkshakes, cold pressed juices and kombucha.  
By Debra Lidster 
The Laneway Green 
Chatswood Rd
Cnr Magellan Rd
Springwood 
3808 2743