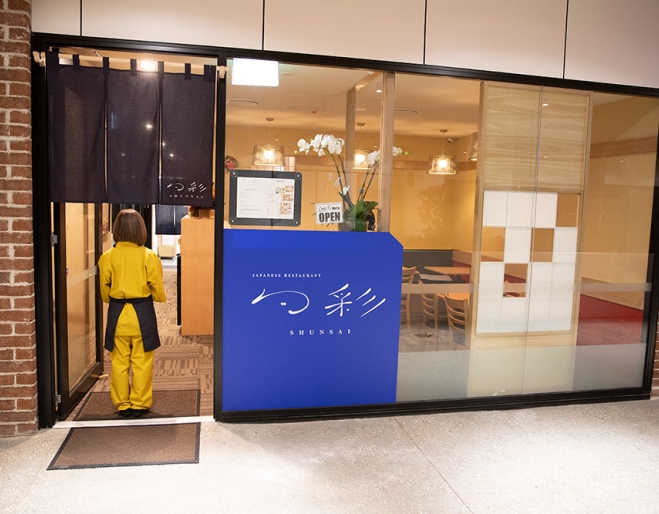 Shunsai is a real slice of Japan in Brisbane - a pocket-sized upmarket Japanese restaurant and bar found tucked away under the schmick East Brisbane apartment block The Wellington.
Consisting of a tiny 12 seat dining room and six-seat bar (where you can also dine), Shunsai, which looks to have been transported straight from of one of the eating precincts of Tokyo, features a minimalist pale timber interior adorned with vases of ikebana.
Kimono clad Japanese waitresses greet diners, while the chef/owner can be found behind the bar where he is happy to converse with customers about the exquisite hand-crafted food that is being served.
A cut above the vast majority of Brisbane Japanese restaurants and totally unique, Shunsai is the go-to for a divine degustation-style multi-course dinner (with vegetarian option), served on artisan Japanese crockery and which changes seasonally and according to fresh ingredient availability. Everything here is handmade in-house, including the soy sauce and the fish is cured by the chef onsite for 12 hours.
Open for lunch Wednesday to Saturday, diners can choose the Sushi Set (available Wednesday only), Sashimi Set, Chirashi Set, Shunsai Wagyu Bento or Kaiseki Bento - seasonal appetizer, pickled veges, simmered veges, sashimi, grilled fish and deep fried fsh served with steamed rice and soup. There are only 10 Kaiseki Bentos available each day so reservations are recommended.    
In the evening, diners can settle in for courses such as Starter of Persimmon and prawn salad with plum mayonnaise; scallop and green tea noodle soup; sashimi plate of house-cured salmon, snapper and blue fin tuna.
Entrée comes kaiseki-style (several dainty tasting dishes on the one tray) and might include basil salmon, konjai with chili, wagyu beef, oyster with tosa vinegar and conger eel tempura with eggplant.
This is followed by a Grill dish such as scallop with seaweed, calamari and sea urchin sauce, a Steam dish such as cheesy egg pudding, Deep Fry like divine stuffed prawns with Manganji chili (from Kyoto) and a melt-in-the-mouth Sushi nigiri plate.
The Vegetarian menu consists of the same number of courses but with dishes such as seaweed and yuzu soup, Entrée of eggplant with ginger soy, and yam crepes, pumpkin manju, and kushikatsu (skewers of deep-fried veges) replacing the meat/seafood options. Lastly, dessert consists of deliciousness such as green tea tiramisu.
For the ultimate dining experience upgrade to the Shun Course which has 2 additional courses to the main menu: Wagyu steak (marble 9+) and simmered vegetables.
Children are welcome to dine with their parents on Saturdays and school holidays with a child-friendly, fenced play area provided. Meal options for children include the Kids Sushi Set (vege sticks, chicken karaage, 2 small sushi rolls and dessert)  and Kids Kakiage Udon Set (side dish, chicken wing, kakiage udon and dessert).
Shunsai is licensed with sake (including sparkling), which can be matched with courses, as well as shochu, plum wine, a small curated selection of Australian and New Zealand wines and Japanese beers on tap (Sapporo and Yebisu). 
Good to know – Free on-street parking is available after 3pm in surrounding streets such as Jurgens St or diners can park underneath The Wellington for one hour for free or $10 for 2 hours.
The menu may have changed since our visit.
A full list of the best Japanese restaurants in Brisbane HERE
Shunsai
The Wellington
45 Wellington St
East Brisbane
Licensed
BYO Wine 
3391 1449
Map
45 Wellington St East Brisbane