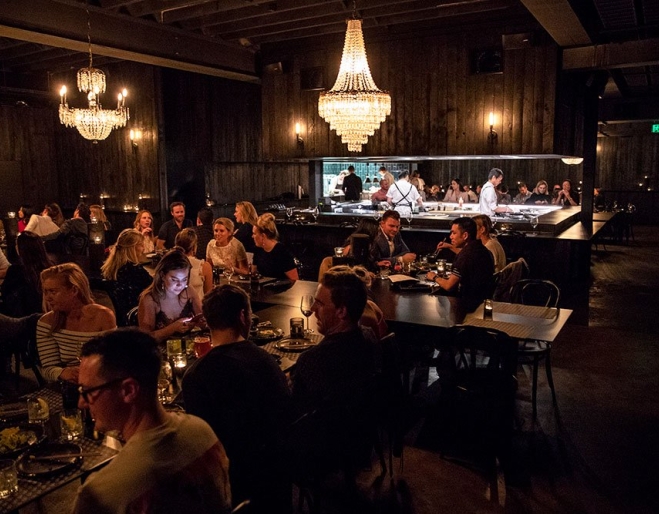 Honto is a stunning, black, moodily-lit Japanese restaurant and bar hidden away in a Fortitude Valley back street, with a secret door entrance next to a furniture loading dock behind The Wickham Hotel.
Those who manage to find the door (adjacent to the massive Matt Blatt sign) enter through a winding black tunnel to come out the other side into a minimalist black-walled space unlike anything else in Brisbane.
Featuring a raw dining bar, open chef kitchen and a spacious dining room itself with stunning chandeliers suspended over tea-lit tables, Honto also has an intimate dim-lit bar tucked away to one side near the entrance.
Just like the venue, the creative menu, which takes traditional dishes and reimagines them using local produce, is unlike that of any other Japanese restaurant in Brisbane.
Best shared, the menu consists of Raw (think tuna ceviche with edamame, pickled nashi and wasabi stem) and the highly-recommended yellowtail with avocado cream, yuzu nahm jim and puffed rice) and delectable Bites such as the must-try Honto drumstick with tuna and avocado, prawn doughnut with red shiso and kimchi mayo or Wagyu tartare with smoked soy, egg yolk, lotus rot and nori.
Then for 'A Bit More' there's divine dishes like Chicken isobe-age with green yuzu chilli paste and charred lime, pork and vegetable dumplings with balsamic ponzu and burnt chilli sesame oil or eggplant with white miso and sesame.
'Bigs' include whole snapper karaage with sweet and sour cucumber and papaya pickles, shichimi spiced lamb shoulder with yuzu dashi yoghurt and flat bread or Wagyu beef, mustard greens and yakiniku sauce.
For Sides, there's the likes of spinach leaves with white sesame or twice-cooked Brussel sprouts with wasabi cream and crispy garlic.
Lastly, the two Sweets options are Strawberry three ways with shiso granita or chocolate with candied peanuts and miso ice-cream.
Can't decide? Then ask for a head chef's selection of dishes for $70*pp (add $60 for matching wines) – you can't go wrong.
Meanwhile, Honto's intimate whiskey, sake and cocktail bar is where diners gather for a drink whilst waiting for a table but it's worth a visit even if you're not planning to dine. Behind the bar is a stunning backlit whisky wall featuring hundreds of bottles of Japanese whisky, many of them that you won't find anywhere else in Brisbane.
The unique artisan cocktails feature ingredients like volcanic black salt, blueberry infused sake, charred pineapple, shiso, peach shochu or chocolate chilli liqueur and wasabi-infuses Australian cane spirit and have names like Showdown at House of Blue Leaves and The Man from Okinawa.
An exhaustive list of whiskeys are served neat, on the rocks or highball and include Suntory, Hibiki & Chita, Taketsuru Pure Malts, Coffey Whiskies, Ichiro's Malts, Mars Shinju as well as Yamazaki Distillery, Yoichi and Miyagikyo Distillery.
There's also an extensive array of American and Scottish whisky, a smattering of Australian/Canadian and Irish whisky and an impressive selection of Rum, Tequila and Vodka from around the world.
Beer drinkers will find Asahi Super Dry or Pal Mel's Pale Ale (Vic) on tap and a range of Japanese bottled beer and cider.
And wine drinkers can choose from a 40-page menu of especially selected wines from around the world that complement the food.
Good to know - Honto is brought to you by the canny folk behind another James St favourite, sAme sAme.
A full list of the best Japanese restaurants in Brisbane HERE
Honto
23 Alden St
Fortitude Valley
Licensed
3193 7392
Map
23 Alden St Fortitude Valley