The Golden Pig is Brisbane's holy grail of Pan Asian cuisine, found hidden away in a stunningly converted Newstead warehouse.
Located in the back streets alongside Breakfast Creek and a stone's throw from Newstead House, The Golden Pig is aglow at night when it is filled with in-the-know foodies who travel from everywhere to dine on the exquisite world class cuisine.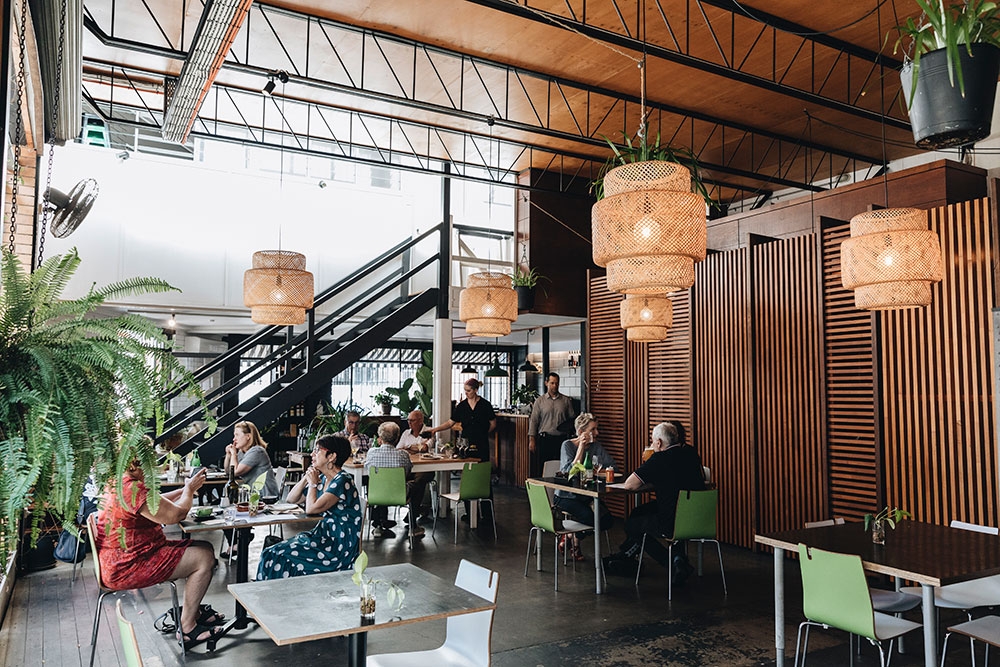 For in the kitchen is the owner, eponymous Brisbane chef Katrina Ryan (ex-Rockpool Head Chef and Yandina Spirit House), and behind the gorgeous design of the dining space and bar is her husband Mark (building designer and ex-chef).
Step inside the door and behind the barred widows, you'll find a jaw-droppingly beautiful industrial space with lounge bar, wall gardens and hanging pot plants, clusters of bare golden light bulbs, and a bustling open cage kitchen that resembles a workshop.
The menu is inspired by South East Asian and Chinese traditional dishes and given a whole new creative twist, fusing together the various cuisines and flavours to make for an absolute taste sensation.
Designed to share, on offer are Small, Medium and Large Bites with Sides to accompany as well as Dessert. Diners can also opt for the popular degustation-style banquet, which is Chef's selection of signature dishes suitable for tables of 2-20. As well as the classic banquet, there is also a choice of vegan/vegetarian and coeliac banquets.
Mouth-watering Small Bites include the likes of Ma Hor* (sticky fried peanuts and coconut on fresh pineapple pieces), scallops with ponzu miso butter and perilla*, pot sticker dumplings with water spinach, pine nuts and fermented white bean curd* and beef rendang curry puffs with sweet soy and chilli sambal.
For Medium Bites, diners can choose from delectable dishes such as Duck leg braised with soy and coconut in red curry sauce with pineapple, sweet and spicy Korean crunchy fried chicken with peanuts* or warm salad of crispy fish with green mango, sweet tamarind dressing.             
Then for Large Bites there are choices such as crispy skin barramundi in yellow fragrant broth with lemongrass, galangal and Thai basil, twice cooked lamb shank with Massaman sauce, cucumber & peanut relish, or crispy free range pork belly with mandarin, miso and black vinegar sauce.
*These dishes are also included in The Golden Pig Banquet. ther delicious Chef's speciality dishes that are exclusive to the banquet menu include betel leaf with smoked duck breast, sticky tamarind sauce and grapefruit; coconut mousse with turmeric and ginger poached pear, cashew and coconut brittle and braised Chinese red rice pork belly, red dates & ginger. 
Dessert is every bit as scrumptious as the rest of the menu, with the likes of Vietnamese coffee semifreddo with chocolate and hazelnut meringue, date and lime clatoufis with salty caramel sauce and kaffir lime ice-cream, or steamed pumpkin & coconut custard with candied pepitas & crispy shallots.
The wine list at The Golden Pig features an impressive selection of sparkling, white, rose and red from the best wine-growing regions of Australia, New Zealand, France, Spain, Italy and Germany, perfectly chosen to complement the food. An equally excellent range of beers includes Victorian, Queensland and New Zealand craft beers.
And for cocktail drinkers, there's a luscious list of specialty cocktails with a tropical/Asian flavour - think Cumquat G & T, Ink Gin and Elderflower Spritz, Lime Tiger, Peachy Pink Gin Fizz and the very popular pineapple rum, Jungle Bird.
Planning a party? From hands-on cooking classes to cocktail parties with finger food, The Golden Pig can customise the perfect corporate or private event that your guests will be talking about for years to come.
Nice to know - Despite its brick and concrete warehouse setting, the acoustics are great, with noise softened by the plants and tables that are well-spaced out. Chef/owner Katrina also runs popular cooking classes in The Golden Pig kitchen.
Need to know - There is plenty of free street parking nearby after 7pm.  The Golden Pig menu is also available for takeaway.
The Golden Pig is a valued partner of Must Do Brisbane.com
The Golden Pig
38 Ross St
Newstead
Licensed
3666 0844