Brisbane's Best Laneway Bars
Have a Brisbetter Day Out by exploring your own backyard and discovering the city's many hidden gems.
In recent years, Brisbane's laneways have sprung to life with some of the city's coolest bars and eateries as well as open-air art galleries ​​as part of Brisbane City Council's Outdoor Gallery program. Here are 5 fabulous laneways you need to check out:
Fish Lane
Fish Lane is constantly a hive of activity and a food and drink lover's delight, with a smorgasbord of popular venues to enjoy. Starting at the Grey St entrance, you'll find Maeve Wine Bar, up a secret staircase in a 1920's building and popular Julius Pizzeria. Facing off with each other just inside the lane are two of Brisbane's tiniest bars, Maker, an exclusive 10 seater and Bar Brutus, with only 8 seats inside.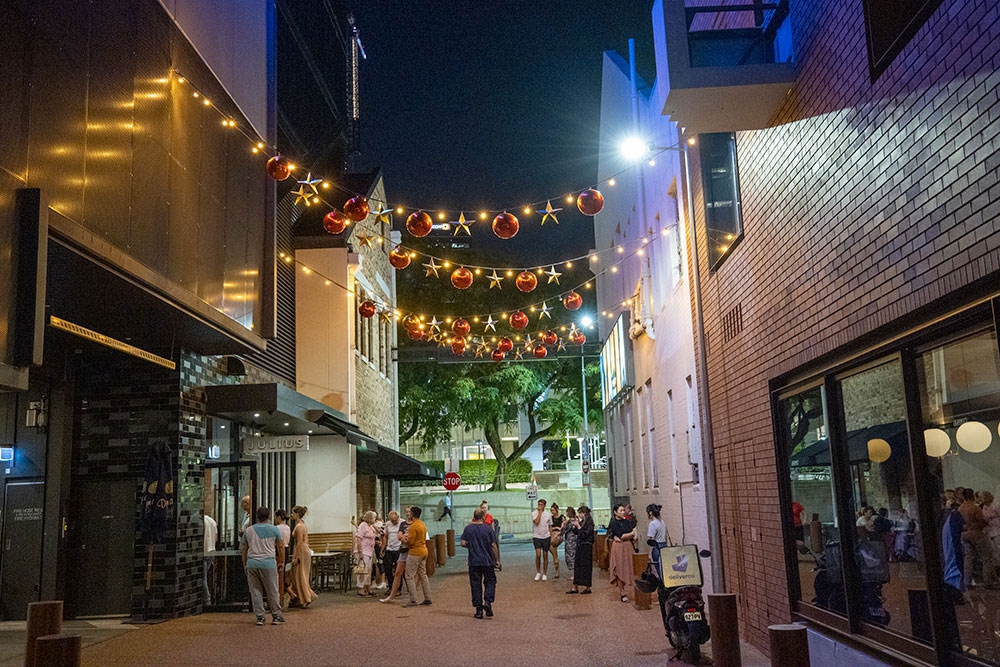 Keep on walking and under the railway bridge, flanked by greenery, is the kiosk Kiki, which by night is a cocktail garden bar. Further along you'll find funky brick Saccharomyces Beer Cafe and, if you follow the lane to the end, you'll come to a a lit-up barber shop, which is the secret entrance to hip hop bar Next Episode. Dotted along the laneway you'll see the works of local artists featured in the light box installations, as part of Brisbane City Council's Outdoor Gallery program.
Burnett Lane
Blink and you'll miss Brisbane's oldest laneway, which is divided into two sections and is worth exploring by day or night. Named after Brisbane's first surveyor James Burnett, who died at 39 and is now profiled with an artwork on the rear wall of one of the Queen St buildings, the laneway was built over the Prisoner's Barracks Yard from the First Settlement in 1830.
Home to four bars, on the section between George and Albert St you'll find ambient whisky lounge Death and Taxes, next door neighbour Spanish-inspired Alba Bar & Deli and, inside what was once a beauty school, funky split level bar Super Whatnot. Look up and you'll notice the laneway is dotted with lanterns. The artwork by Lisa Sorbie is part of Council's Outdoor Gallery program. Across Albert St there's Lower Burnett Lane, where in an old loading dock, is underground cafe-by-day, wine-bar-by-night, Brew.
Bakery Lane
Bakery Lane is a charming heritage listed laneway located in The Valley, packed with foodie finds and tipples, and bookended by an 1870's building that was the Valley's first apothecary. On weekends it is home to artisan markets and by night it's abuzz with revellers-in-the-know. Hit up LaRuche for some of the Valley's best cocktails or try late night spaghetti bar Uh-Oh Spaghetti-Oh for drinks and pasta until the wee hours.
Eagle Lane
Located down towards Eagle Street Pier, this little laneway comes alive with music and art installations and is a popular migration spot for after work revellers. Entered via a secret doorway, subterranean bar Brooklyn Standard is one of Brisbane's best live music venues, with an eclectic line up of bands and musos each night, from jazz to motown. And next door you'll find Brisbane's only American sports bar, Fat Angel. Be sure to check out the laneway's light box installations, which change regularly and feature the works of local artists.
Gresham Lane
A heritage-listed bank on the Queen St side of Gresham Lane houses the stunning Gresham Bar, an award-winning whisky bar that is one of Brisbane's best and most ambient, like something out of an Agatha Christie novel. During the day, the lane is abuzz with city workers who flock for the quality quick and easy eats in the laneway's other venues.
Find out more by going to Brisbane City Council's website and check out Brisbetter Days Out.
Brisbane City Council is a valued partner of Must Do Brisbane.com